JK Trend Report: Euphoria Style
We all know that fashion and entertainment go hand in hand. The biggest fashion trends are almost always related to our favorite movies and TV shows. Euphoria has been taking the world by storm, and in turn we are all obsessing over their wild, and edgy fashion 'fits. The NEWEST obsession is how you can dress like these cool kids for prom in 2022. I have collected some inspo from this iconic show, and I just know these JK styles are going to have you all feeling Euphoric.
Sexy Black Sequins
Shine a little bit brighter than the rest of the crowd is an understatement in Euphoria styling. This stylish trend is all about flashing your best while using unique fabrics, textures and prints. Our sequin halter, style 2437, is the perfect way to recreate this Euphoria star's red carpet look. This flat black sequin gives a wet look that is super sexy. In the case that an all sequin gown wasn't special enough, we designed this piece with a little extra flare. The built in pocket has beaded fringe that lays across the upper thigh. Sexy, right
Bold Cutouts and Color
The Euphoria style of fashion has blown up so fast because they are NOT afraid of color. When I tell you that bold color is the newest way to be on top of your fashion game, I mean it! Look at this example from the show. This deep purple color pops on any background, and I just know you will fall in love with the purple/teal combo of style 2402. With a lace-up back and cut-out spaces gives this gown a stunning silhouette and is perfect for parties, or prom.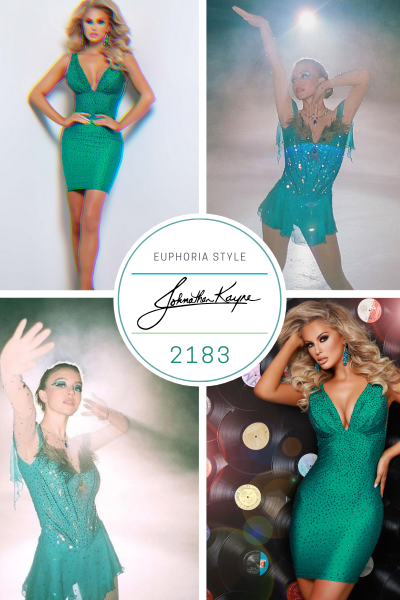 Mini Dress Mega Style
You all have to know that this ice skating costume was absolutely one of my favorites. Complete with peacock feathers I am seeing this look as a pageant fun fashion! Taking this look to the street looks a little different. Style 2183 gives the same great shape to the body, and our jade or aqua colorway are going to give the same vibe. The V shaped crystals on this costume is what makes this gown flattering, much like the pleated bust that shapes this best selling style. Perfect for the club, school dances, or big on-stage performances.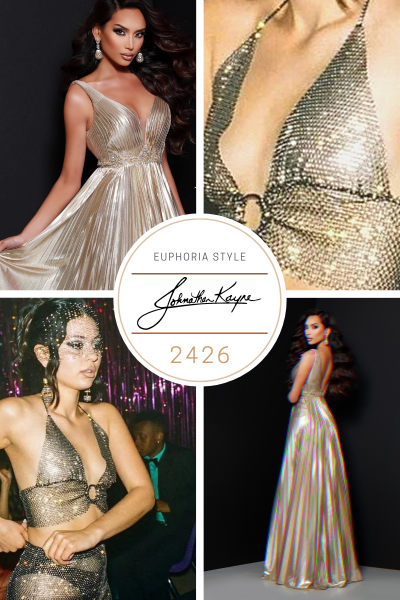 All that Glitters is Golden
Just like bold colors, mixed metals and metallic are a major trend coming from Euphoria Style. Luckily I have just the thing for this in the Spring Collection! Style 2426 is luxuriously golden. Pleated bodice and skirt are created from a soft metallic brocade that glistens in the night lights. A much more modest approach to this sparkly ensemble, but that just makes it appropriate for you to wear it to prom, pageants, or other special events. That just means you can have the fun trends, and actually wear them too.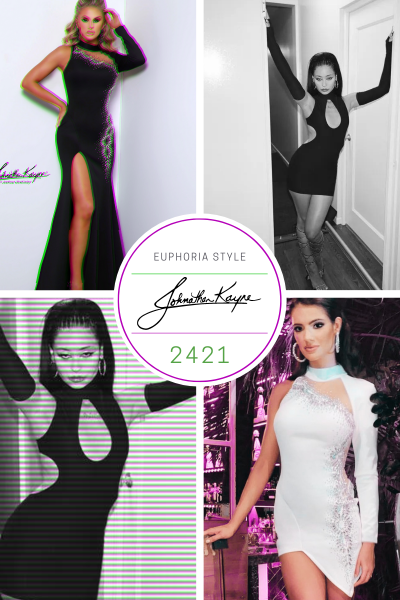 Sleek and Chic Sleeves
High neck dresses have been a staple in fashion, but we've elevated the look, and apparently the Euphoria stylists agree that it is HOT! Style 2421 features the best of everything with a unique asymmetrical style, a sexy cut-out mesh illusion, and a peek-a-boo of skin on the side. This dress is seriously cool, and is totally the look for the #baddie. Miss TN USA got this look right when she slicked her hair, chopped this gown short, and added a big shiny hoop earring. Which way do you like this gown; long or short?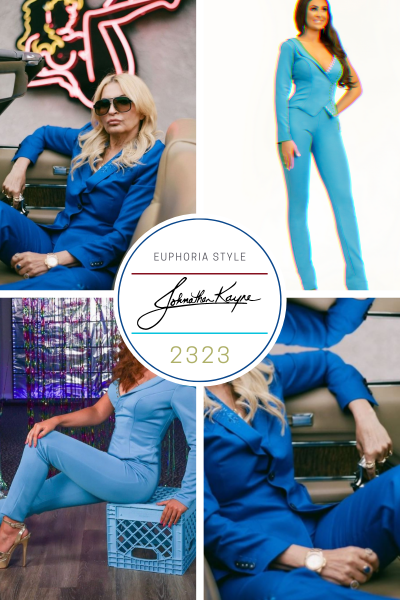 Badass in Blazers
We all know that pantsuits are cool, but not going to lie, I think my blue pantsuit just might have the Euphoria style beat. The one-shoulder, asymmetrical top with tailoring influences is totally cool. With gold studded details, I seriously have been obsessed with this style for a minute. Style 2323 is available in blue so you can look and feel like the coolest.
Black and White Babe
Zendaya has been a Gen X and Gen Z fashion icon for a minute, but this show has seriously sky rocketed the attention to the stars wardrobe. We are in luck that she is rocking this classy B&W gown right as we are launching new style 2408 for the new year. Using vertical stripes you can elongate the body, and give a taller and sexy look to your body. I am no stranger to using black and white to flatter and accentuate the body, so this dupe for Zendaya's red carpet style is a total WINNER.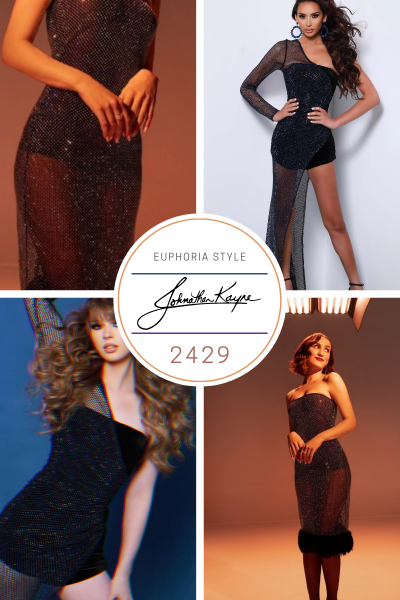 Crystals are a Girls Best Friends
Let's be honest, we all want to drip in diamonds, but on a rhinestone budget. You have to know how obsessed I am with crystal mesh. This delicately crafted fabric has a crystal placed on every intersection of the mesh fabric. This creates an over the top sparkle on a flexible and workable fabric. I have been using crystal mesh for the past few collections, and you will see it in a few JK and JM looks for spring, but style 2429 embodies the sexy Euphoria style. This red carpet look was completed with a fur hem, but our version of the look is a luxurious velvet romper with crystal sleeve and overskirt. Who did it better?