Hottest Trend for Prom 2022: NEON
The hottest prom trend for 2022 is bold and unapologetic color. Fellow designer Joshua McKinley and myself have been on the neon trend for a while, but I am predicting an even bigger year for neon colors in 2022! These styles are some of the best (and brightest) for 2022 prom from our best selling and new collections! With bright colors from pink to yellow, everything you need is here for this springs hottest trends.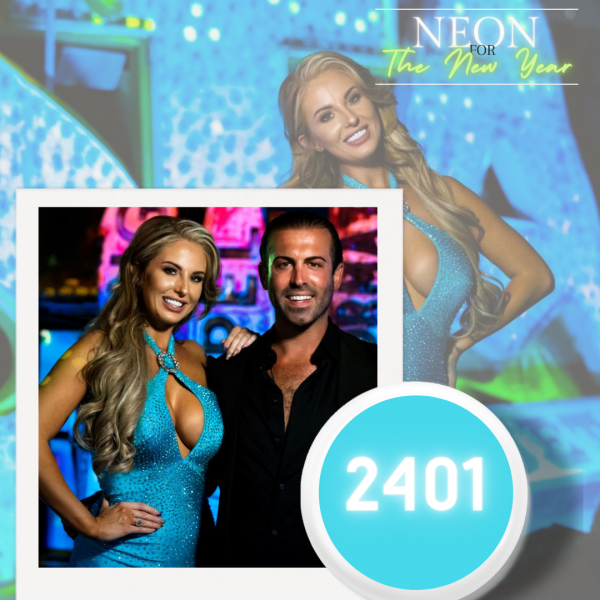 Kicking it off with a Joshua style that is perfect for prom! This keyhole lycra gown comes in 3 brilliant neon colors: fuchsia, turquoise, and lime. The great appeal of neon fashion is that the tones and colors naturally boost your mood. I always feel a positive energy when seeing our girls trying on this special fitted prom dress for the first time. Style 2401 is truly a unique prom style as it features a cross-over halter with a removable broach so you can style it YOUR way.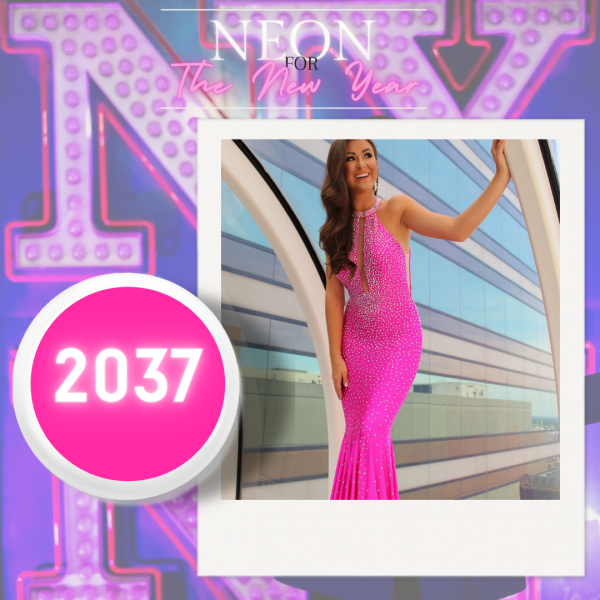 I am telling y'all, I knew that neon was youthful and sexy for years. This staple Johnathan Kayne style 2037 has been a best selling gown in my collection for multiple seasons! Truth is this gown remains one of our girls, and retailers, favorite dresses every year. This perfect prom and pageant cross-over is great for standing out, even with the limitation of school dress codes. The halter neck helps cover up to fit your school, or pageant, guidelines, and the fit and vibrancy make you feel beautiful. This sexy style is available in so many colors, including this bright fuchsia, electric blue, and NOW a bright and unique lime just in time for prom season.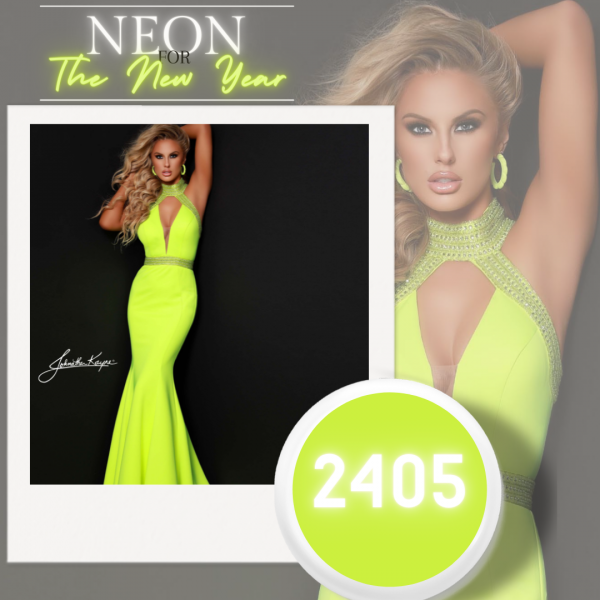 When I started brainstorming sexy neon, style 2405 is the first design and color to come to mind. This vibrant dress deserves to be on a billboard. Forget the neon sign, all you need this this stretch knit V-neck. This neon yellow colorway is even more stunning in person. You just have to give this dress a try-on while doing your prom shopping. I promise it'll be hard to find another dress as perfectly youthful, and unique.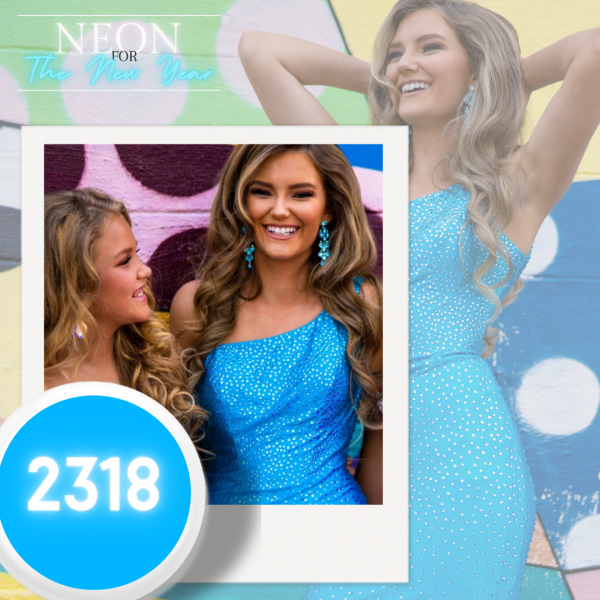 One shoulder styles have been selling like hot-cakes. Let me tell you that style 2318 will never disappoint. As seen on Katelyn Brown in Kiwi, this style is a knockout on any body type. We've been selling this style to prom girls from a size two to a twenty-two. There is no way you won't swoon over these bright beauties available in delicious colors like yellow, turquoise, kiwi, and hot coral. Shop this style soon before it's sold out for the season.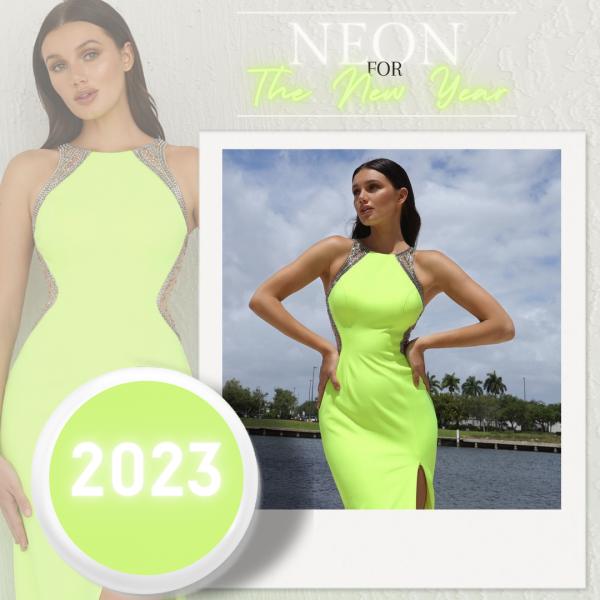 Of course we had to include another Joshua dress that has been killing the neon fashion game for a few seasons. This flattering dress accentuates all the right curves. There's no better way to show off your waist while wearing bold color like style 2023. The gun metal beads and details make this gown pretty, dare I say, badass. Not only will you look like a baddie in this at prom, but you'll be totally on the neon trend! As much as I love this gown in yellow, there's a dynamite hot coral that I couldn't recommend more.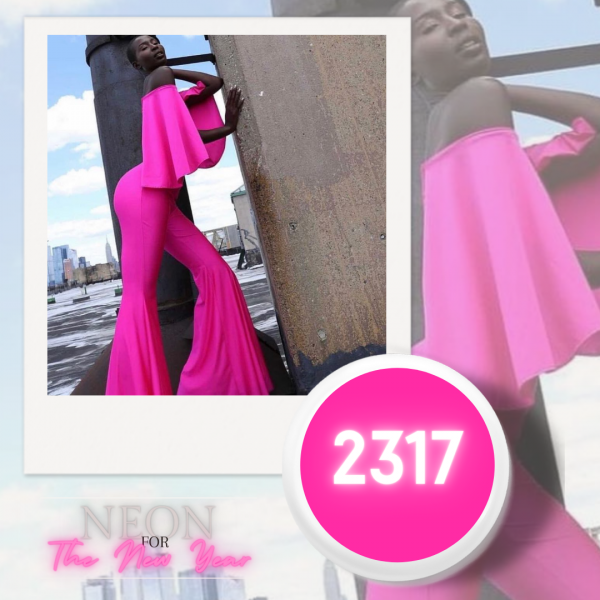 Pantsuit sets and pink is a match made in trending heaven. What could possibly rise to the top of the neon trend faster than a two-piece set in a stretchy, ultra comfortable fabric? That's why style 2317 is at the top of the style list for bangin' neon styles. These bell bottom pants are perfect for elongating the leg; and nothing is better than being able to comfortably bust a move when you're wearing a color as energetic as this fluorescent fuchsia. The little ones aren't excluded from this special style. Check out style C115 in the Sugar Kayne Line.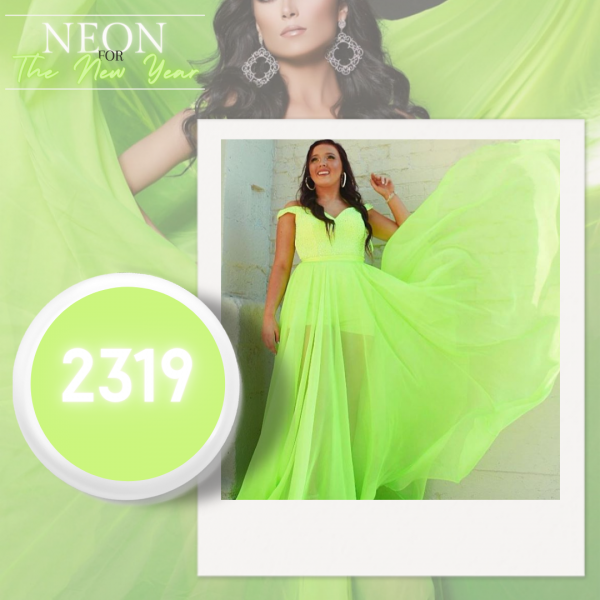 Let's be real, we're all #obsessed with this neon hot short. There is no wrong time to wear style 2319. I could style this romper for any occasion. Perfect for the pageant fun fashion, the non-traditional prom girl, or even for GNO. The sheer overskirt takes this fashion from flirty to fabulous, or vice versa. Perfect in two neon colors: hot coral and neon yellow.
Check out our Pinterest for Bright Color Prom Inspiration!
Halloween is a time to throw caution to the wind. A time to push your fashion sense to new heights, and reinvent yourself. What better way to do that than in your favorite JK gown? Yes… you read that doll! A JK gown can not only turn heads at your special event, it can make you one stunning Hallow-Queen. From princesses to superheroes, our line has something to inspire all of you gorgeous ghouls. Let's get ready for a bangin' Halloween!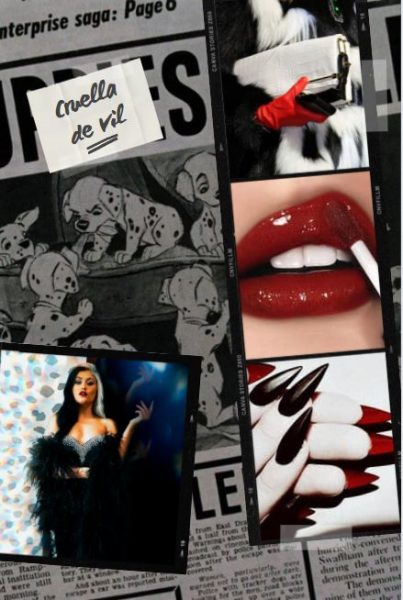 Starting this off with the Queen of Mean, Cruella de Vil. While she may have lost her mind, her fashion sense is right on track. Black and white with pops of red will always be a perfect way to make a statement but have no fear; No puppies will be harmed in our version of this classic villain. For a regal and figure flattering look I recommend choosing Style #2330. This gorgeous stretch jersey gown hugs the body perfectly, with beading along the neckline to add an effortless touch of glamor. Pair this with a fur shawl, a red lip, and extra points for a black and white wig. Look out for Cruella de Vil!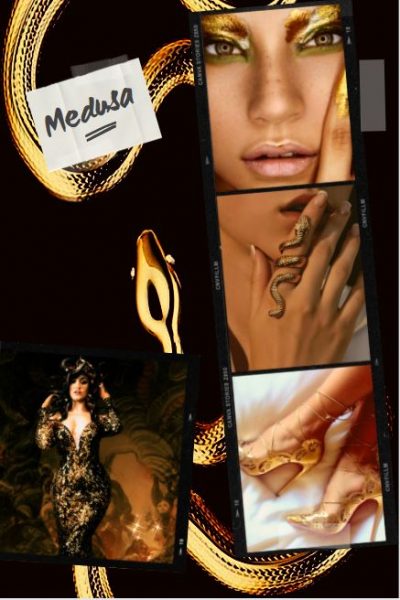 Moving onto yet another powerful villain, we have the eye catching Medusa. The legend of this serpent stunner is just as iconic as her style. Typically adorned with golden snakes, Medusa's look already makes a statement. In the JK version of this look we have combined this classic look with the fully sequined Style #2062. By pairing these killer accessories with a stunning mermaid, you will look just as irresistible as the Greek myth.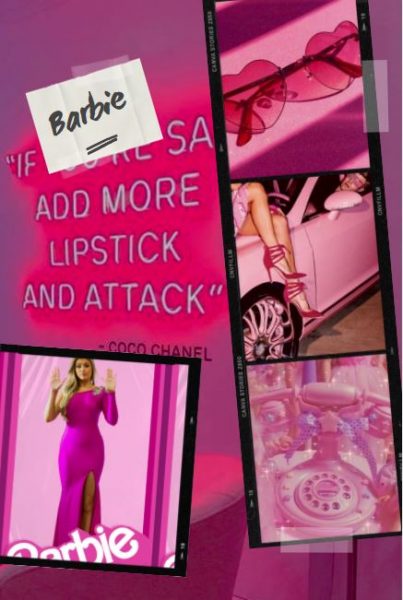 Come on Barbie, let's go party! If there's one thing I love it's a show stopping pink look. No one does it better than Barbie, from street style to evening gowns. In our version of this plastic icon, we have given her a full glam moment. Style #2224 is a hot pink best seller that even Barbie herself would die over. Just snag yourself a Ken, and you're all ready for the Dream House Halloween party. Truly a real life doll, if I do say so myself!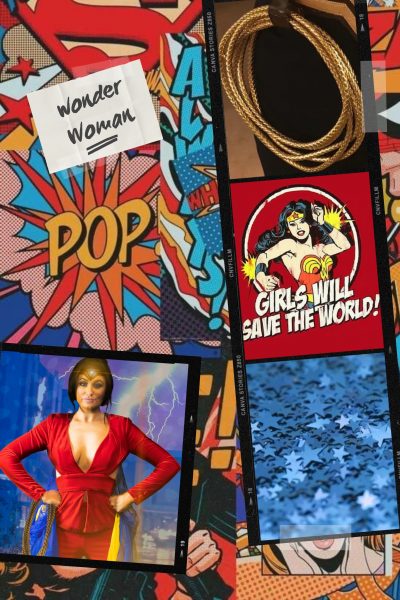 The guys and ghouls won't stand a chance against this woman warrior. Be the strong female lead this Halloween, and dress up like DC's best; Wonder Woman. Ditch the mini-skirt, and save the world with your sleek style. Velvet pantsuits are totally sexy, so style #2325 is a no-brainer 'fit. Add on a blue and a yellow JK Cape, and zip off to save the day! They'll be sure to notice when you *POP* into the party!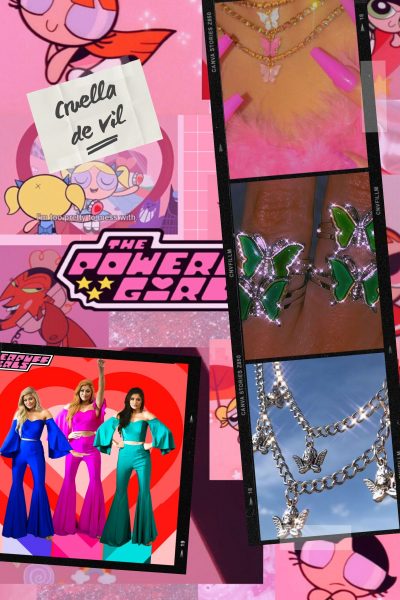 Dressing up with your girls? This girl power gang makes for a fun and flirty costume plan for the whole squad. Luckily we've made just the thing to bring these crime busting besties to life. Style #2317 comes in Pink, Blue, and Green so each of your girls can be one of the gang. Dress up the look with cute jewelry, and have a blast from the past while accessorizing with the best of the 90's hair styles.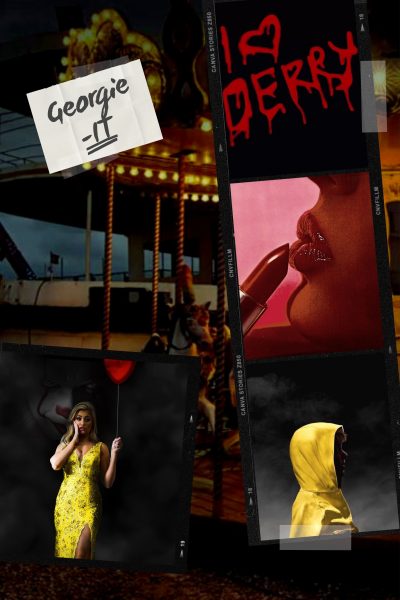 Dare to scare (with your good looks)! We love a scary costume, and this idea is scary SEXY! Bring your best Steven King attitude, and slip into style #2181. Our yellow color is spot on to help you become lady "Georgie". The only accessory you need? A red balloon, and of course a rockin' shoe. Finish off your look with a red lip, and "you'll float" into the night in style.
Which costume is your favorite? Or do you have your own Hallow-Queen idea? Share it with us online with hashtag #hallowqueen and don't forget to tag @johnathankayne !
Dress the Best for Homecoming 2021
Homecoming is right around the corner, which means that it's time to shop for the perfect dress! The amazing thing about a fun night out is you can become whoever you want to be. We've collected our favorite homecoming styles for 2021 so you can find the look that best fits your homecoming vibe. Take a look, and shop these styles with your favorite retailer today to be ready for this years dance!
Be a ROCKSTAR!
Do homecoming the right way, and walk in with celeb style. This studded and stoned mini dress is the perfect way to transform into the cool girl. The padded shoulders give off rocker vibes, and help to slim your waist, giving that killer hourglass figure. The high neck and long sleeves are sexy and sophisticated, and help to fit into school dress code (while still looking stunning). Choose white and gold for a sophisticated and totally badass vibe, or go with the classic LBD (little black dress). You'll know you're dresses with the best in this popular mini style.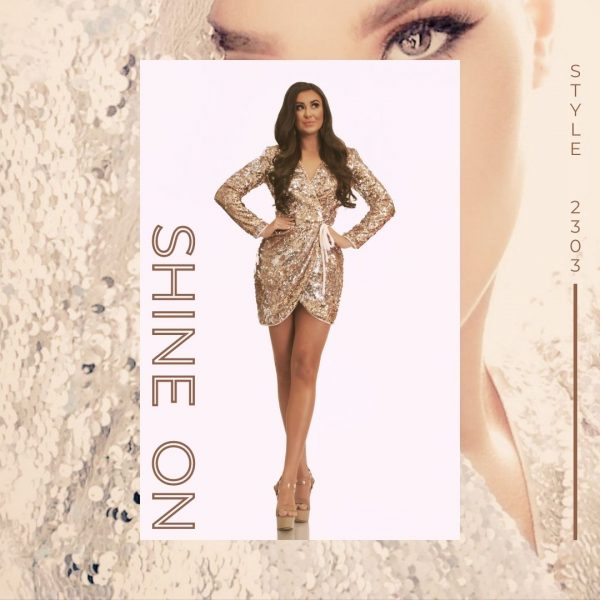 SPARKLE and SHINE!
Looking to be the center of attention this homecoming? Then make your mark in sequins. This extremely trendy and reversible sequin fabric will make you the life of the party. The comfy wrap dress style will ensure that you can keep dancing all night long. Available in both rose-gold and aqua-silver, you're sure to shine brighter than anyone in this sexy short dress.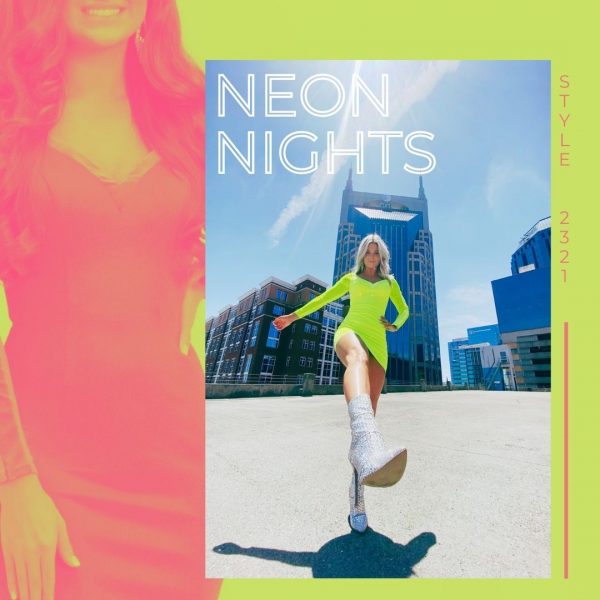 Be BRIGHT at NIGHT!
This is dress was made for the young and the fun girls! Feel wild and free stepping out on the town in in this bright dress with mesh and velvet details. The v-neck shape is flattering, and the sleeves feature a modern paneling design that gives them that something extra. NEON is for every season, especially for those girls looking to have a good time. Pair this dress with a cool neon boot, and nobody will be able to stop you from strutting your stuff.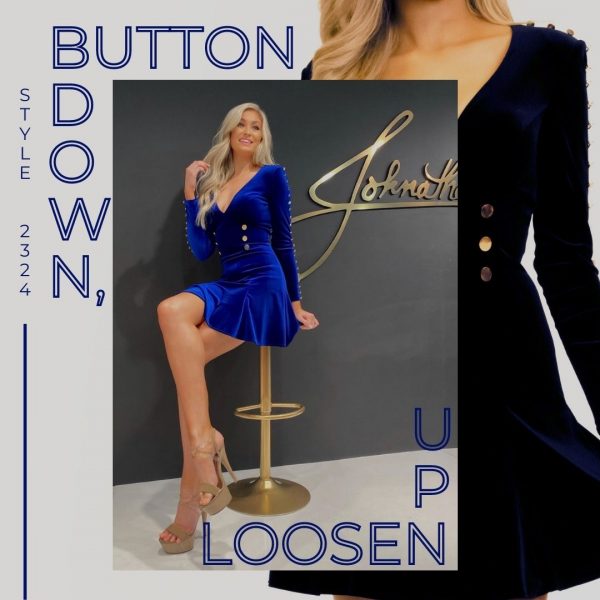 HELLO Sailor! 
Be fun and flirty in this playful style. The flouncy mini skirt makes this dress a blast to dance around in, and the skater skirt fit is a favorite for so many women. The stretch velvet fits like a glove, and makes feeling beautiful easy. With decorative gold buttons lining the sleeves, this style has a level of class and sophistication that is understood, and the decorative buttons on the dress draw attention to the slimmest part of the waist. For our classic LBD girls, the black velvet is so stunning, but for the more daring, the luxurious royal velvet is a show stopper.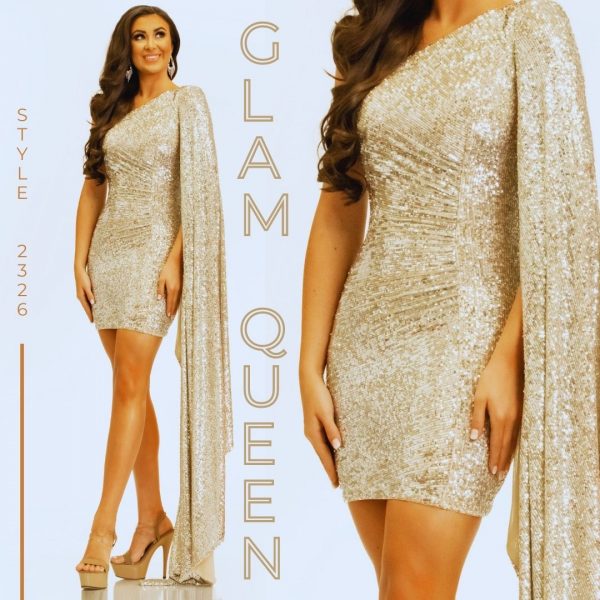 Bring on the DRAMA!
Give it up for the GLAMOUR GODESSES that are going to rule their homecomings in this stunning short gown. With a dramatic one shoulder that drapes down to the ground you can have the elegance of a gown in a short style. We can't forget to mention how delicious this champagne color looks on an array of skin tones. The cross-body gathers flatter the waist, and will give any body type a snatched look. Best part of this style, you don't have to jeopardize comfort to look this stunning. This whole gown is sequin stretch fabric, making it super comfortable, and easy to fit to your body type.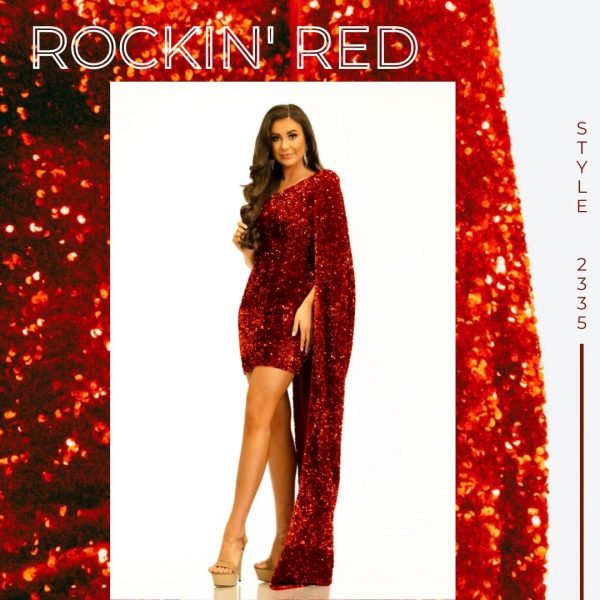 Bring on the BOLDNESS!
Red dresses are always a statement. Everyone knows that red is the sexiest color, so what happens when you have red sequin gown, with a dramatic sleeve, and a bangin' fit? You look RED HOT! Another shocking one shoulder sequin, but this velvet style brings extra sophistication. Featuring a drape from the sleeve to the back of the dress. Totally unique design elements like this are what make you stand out as as a STAR amongst the wanna-be homecoming queens.
Which look are you going to rock? Share your homecoming pics with us on Instagram! Make sure to tag @johnathankayne