Holiday Glam Favorites from JK!
Style your holiday season with the best! See my favorite styles for the holiday season, and how I would style them for an jaw dropping look that is sure to make you feel beautiful. I have included links to my favorite accessories so you can shop the full look! Read through and let me know which look you want for this holiday season.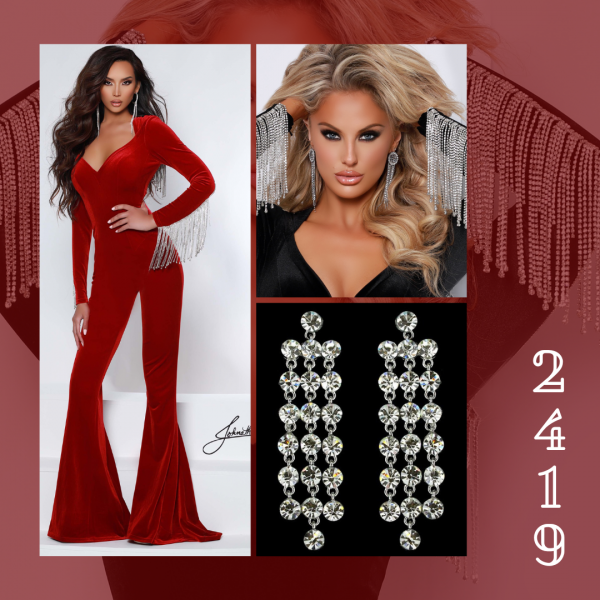 Style 2419 is for the elite.
Only a true queen can rock these crystal fringe sleeves. The bomb fit of this jumpsuit will have your waist snatched, and your legs will look effortlessly long. Whip your hair into a wavy curl, and bring all the drama with a smoky eye. My favorite accessory for this festive style is this crystal earring from Jim Ball. You can never have too much crystal!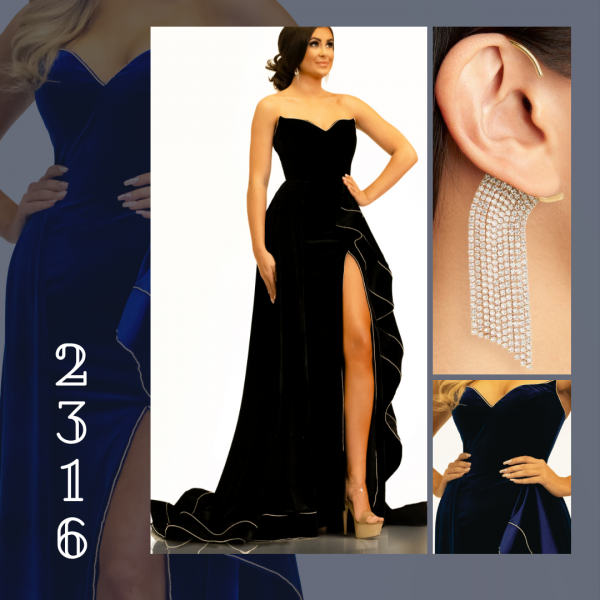 Make sure you are best dressed this year in style 2316.
Diamonds are your best friend this holiday season. Don't skimp on the glam. Suit up in this velvet gown with diamond chain along the ruffle and hem. Both royal and black are great colors for your holiday parties and events. Never forget how much jewelry can impact the look. Take this gown from classic to cool with this crystal chain ear cuff.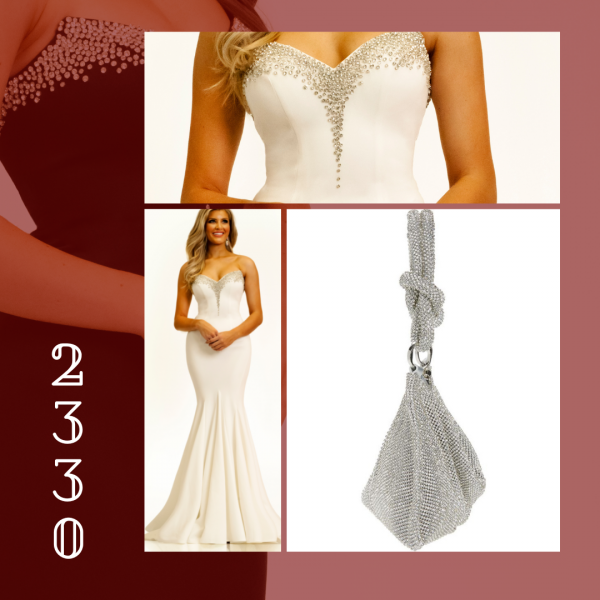 Style 2330 is the definition of sophisticated.
A classy gown will never fail you, especially not at the holidays. A hot style with a stunning fit, and a flattering prong set crystal neckline. These hand sewn stones cascade down the front of the gown to the natural waist, giving a pretty shape to the body. You cannot go wrong with this dress. Are you in love? Great! Pair this gown with a soft crystal clutch like this one from Nordstrom's.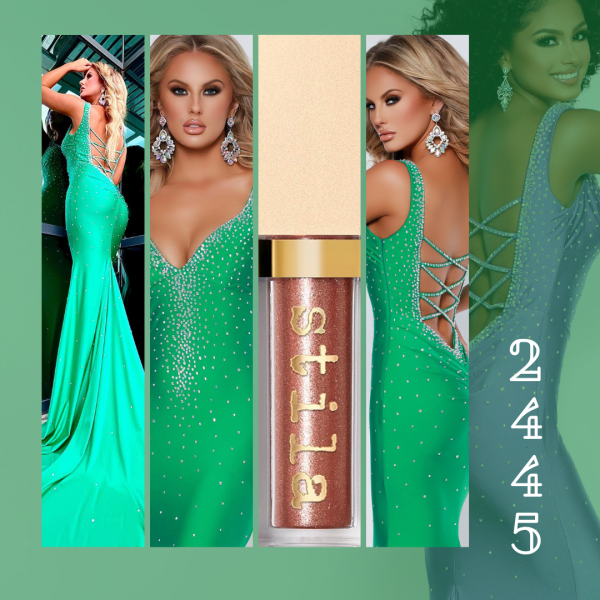 Style 2445 is the shiny new toy!
One word to describe this new best seller. SEXY! Be a step ahead of Santa's other party guests this season. This lycra is already flying off the rack, and you can see why. With a stretch fit it is perfect for every figure, and the new back detail is slimming and sexy. Try it on today at a local JK retailer, and when you fall in love with it shop for a shimmery liquid eyeshadow to complete the look. You are sure to be the star of the show.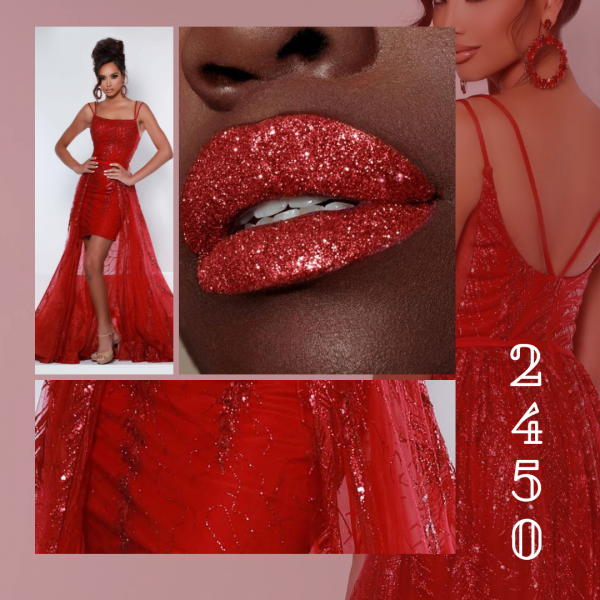 Sexy Style 2450
All that glitters is BOLD. This high-low glitter lace gown is completed with delicate strap details, and a killer dramatic overskirt. Ruby red is always glamourous, so pair it with my favorite glamour staple; a red lip! This glitter lipstick looks unstoppable, and is for sure a finishing touch detail for a holiday glam moment.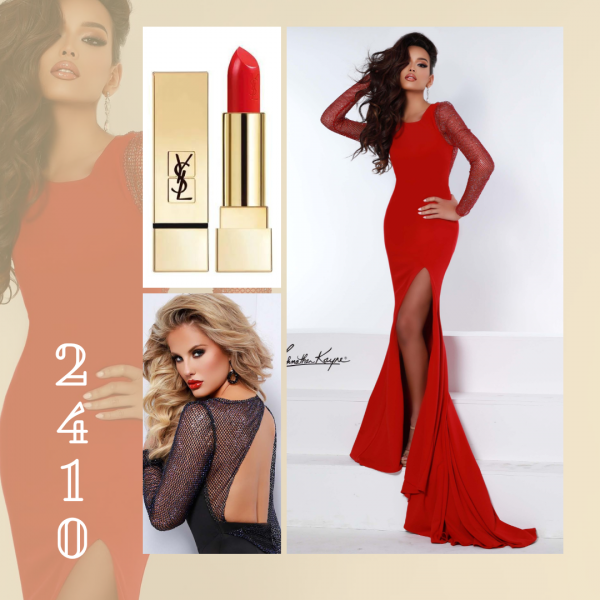 Style 2410 is a Stunner
Santa Baby, this gown is gorg! The crystal mesh sleeves and back detail make this gown shine. A creation from my collab with Joshua McKinley, this gown is perfect for special events. The sleeves make it sexy and appropriate for every age and style. Shop in red or black! Don't forget to finish your look with a beautiful face, and a bold red lip like this favorite red lipstick.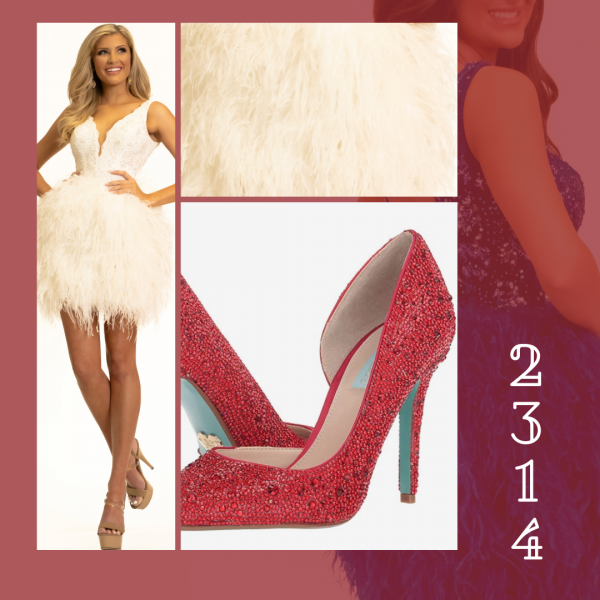 This winter angel is style 2314.
I have always loved a winter white, and this cocktail is no exception. the feather bottom is flirty and fabulous. A fan favorite for obvious reasons! Wearing a short dress is a great excuse to find a fun shoe. This white dress needs a little color! Why not add a pop of holiday spirit with your very own ruby slipper like this Betsy Johnson heel.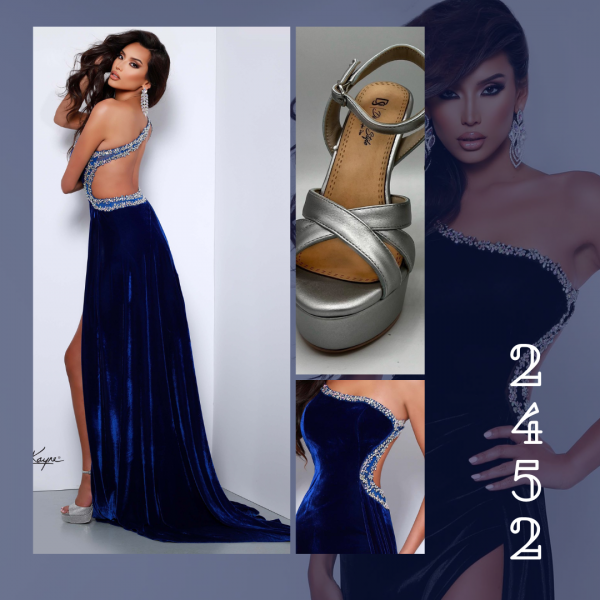 Style 2452 is my favorite!
Velvet is always a perfect fit for the holidays. You can shop it now in festive red, simple black, or this luxurious navy velvet with crystal trim that wraps around your body. It can not get more sexy then this! Seriously y'all need to be strutting to the grocery store in this gown, I am obsessed with it for every occasion. The best way to upgrade the look! A cool metallic shoe! Our example is from The Diverse Style line by Sydni Dion. Did you know Sydni is the current Miss IL, and she has modeling for me at many markets! So happy her shoe compliments this design!
So what will you wear to feel beautiful this holiday season? Share your best looks with me by tagging @johnathankayne on Tik Tok and Instagram!
xoxo,
JK
Sparkle Noel Fashion Show and Charity Event
Join Johnathan Kayne in raising money for local Nashville charities. The JK team is dedicated to giving back to our Nashville communities. This year we are fortunate to have the opportunity to put on a fashion show hosted by HolidayFest, TN. The HolidayFest Organization puts on numerous events in Sumner County to bring the community together, and support growth and wellness for all. This year Johnathan Kayne is taking part in the Sparkle Noel Fashion Show and Tree Auction on November 12th. Join us to raise money for two incredible charities, and don't miss your opportunity to see all the JK styles in one place and plus some Sugar Kayne collection. The event is to be Emceed by award winning meteorologist Lelan Statom. Music will be provided by the talented Molly Lovette.
The event will be held at the Bluegrass Yacht and Country Club in Hendersonville, TN. Tickets are available at www.holidayfesttn.org. Learn more about the charities benefitted below!
Raising money for the Grace Place is something we are passionate about. The JK Team loves any opportunity to support and empower women, and the Grace Place does just that. This home for single mothers creates a support system for families in need. They provide a safe space for homeless mothers and their families, and provide each family with shelter, and access to services to help them grow and better their lives, and for their children's lives. This outstanding shelter gives women in need access to financial training, recovery programs, parenting classes, and so much more. As well as providing these families with their basic needs, they help educate and provide necessary career training. Playing a small role in supporting an organization like this fills our hearts!
The PEER Place will also benefit from the HolidayFest event. We couldn't be more excited to help support them, as they support adults with intellectual and developmental differences. The PEER Place is focused on Promoting Education, Experiences, and Relationships. They have curated the perfect community to empower these adults to achieve their highest potential. The programs they offer help these adults build friendships, further their education, and exercise their body and mind. Job training and volunteer skills are all encouraged, and help prepare each participant for life with independent living skills. We hope this event's support will allow the PEER Place to continue to positively impact lives in the community.
Join us on November 12th! Get your tickets today: www.holidayfesttn.org
Hottest Colors for Fall 2021
It's official! Fall is here. We are so excited for the brilliant colors that fashionistas are embracing this season. Interested in the hottest colors of the season? And how you can shop them with Johnathan Kayne? Check it out below: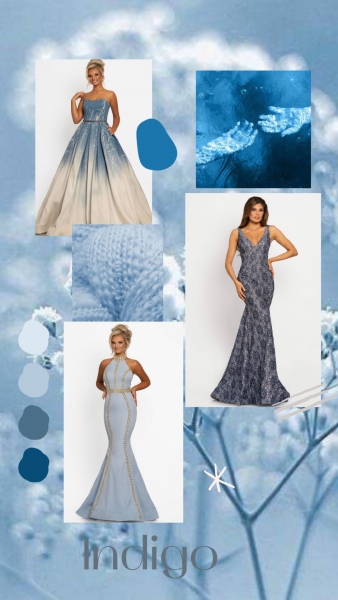 Idealistic Indigo
Denim is an essential element for the perfect fall fit, so it seems obvious that indigo is one of the trendiest colors this fall. JK was way ahead of this trend with all three of these indigo dreams. From princess to mermaid, JK has an indigo style for every woman. The denim ballgown is the perfect way to make a statement, and put your edgy side on display. We will always be obsessed with the splatter bleach print, and this dress should definitely be paired with your favorite chunky belt, or a  chic, rhinestone cowboy boot. Which indigo style is your favorite? From top to bottom (style 2261, style 2259, style 2260).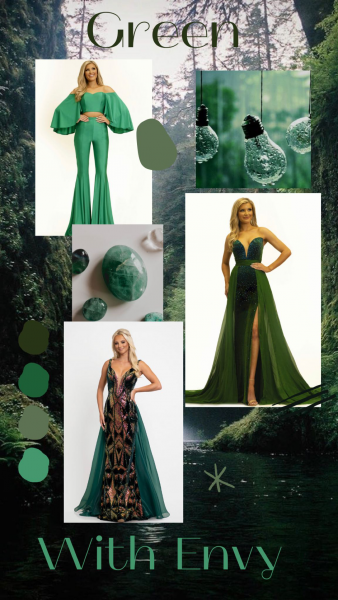 Green with Envy
We all want to be the star of the show! Make them wish they were you in these gorgeous greens. Green is the perfect color for fall as it pops amongst the warm colors of the natural environment. A luxurious green velvet is the perfect way to bring this lively color into the cooler season. Show off with a deep-V but keep it dramatic by pairing any glamourous style with a soft overskirt. This dynamic pair is just a little extra, but totally the way to go. If your style is more simple… jump on into a green jumpsuit. Our jade color is so regal, and will have you feeling like a real life fall fairy. From top to bottom (style 2317, style 2306).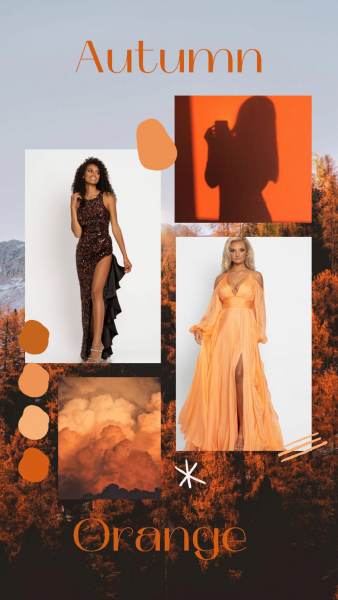 Autumn Orange
Feel all the autumn vibes in soft, crisp colors. Orange is the color of fall, and a classic choice for hottest fall color. Whether you feel more cream-sickle or clay, these warm tones are  sure to brighten up your fall season. Need a fall party look? Johnathan Kayne has your back with these two stunners. We love this autumn/multi color style with a flirty and fun ruffle on the slit, but you can never go wrong with a soft chiffon. This regal style would be perfect for fall photos in the field. From top to bottom (style 2213, style 2038).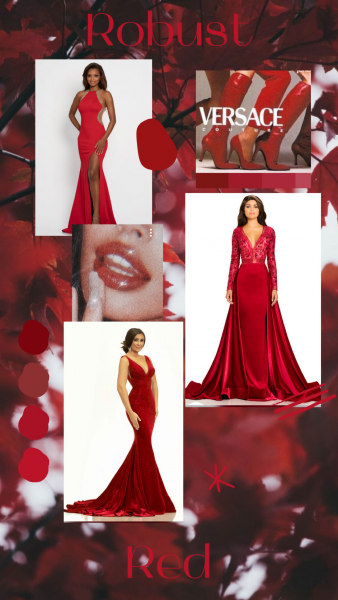 Robust Red
Red is a power color, and fall is a powerful season. These red looks are sure to make your special person "fall" in love with you. Red velvet is sexy in any season, but when you slip it on this fall you'll understand why bold reds are IN this season. Wearing the color red helps to boost confidence, and improve thoughts of self-worth. I think we all deserve a little self love as we wrap up the summer. Wear your heart on your dress, and rock this ravishing red at your big fall event. From top to bottom (style 2023, style 8013, style 2308).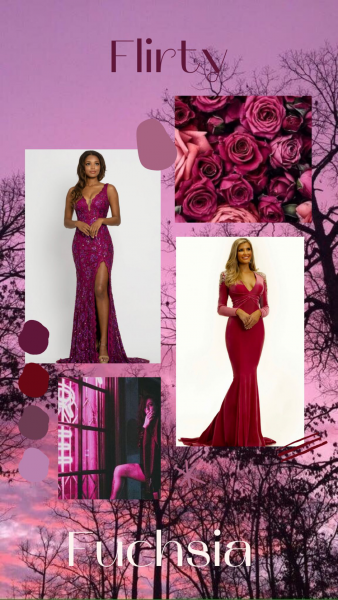 Flirty Fuchsia
Seems things are all about BOLD for this years fall color palette. We always love fuchsia, so seeing that it is one of the hottest colors of the season was exciting. There are so many to die for dresses in fuchsia in the JK line. Whether its lace or velvet that you're wanting we have you covered. Fuchsia is a romantic color, so take on the season with a full heart, and a gorgeous gown. We think sleeves are perfect for the fall, what do you prefer? From top to bottom (style 2181, style 2312).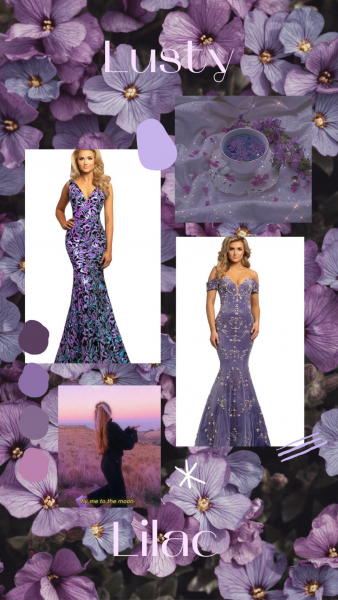 Lust for Lilac
This color is the most unique for the fall! Bringing these springtime vibes into the fall with light lilacs. This is such a fun pop of color, and it is sure to make you stand out in the crowd. Being soft and feminine is stylish in every season. We love our periwinkle velvet, and its the perfect way to bring violet into the cooler months. Lilac multi sequins area also a great way to play into the color trends while staying true to your funky style. From top to bottom (style 2106, style 2176)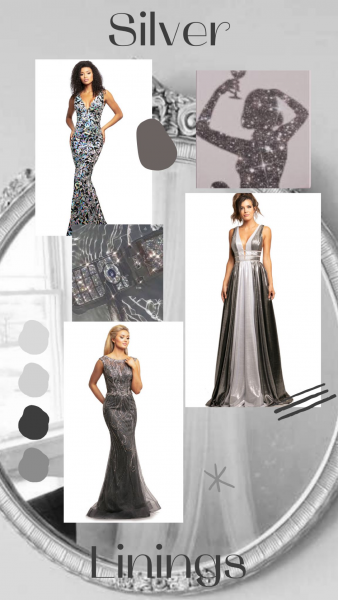 Silver Linings
Make a statement this season in bold metallic. Silver is the coolest of all the hot fall colors. Show that you aren't afraid of the cooling weather, and let your style shine. Metallic dresses never go out of style, and something as simple as silver can be paired with all your favorite fall accessories. We think you should pair one of these silver beauties with a sexy red heel for a real Queen of the Fall look. From top to bottom (style 2106, style 2008, style 2042)
Which color are you wearing all fall? Share your fall picks with us on IG @johnathankayne .