Holiday Glam Favorites from JK!
Style your holiday season with the best! See my favorite styles for the holiday season, and how I would style them for an jaw dropping look that is sure to make you feel beautiful. I have included links to my favorite accessories so you can shop the full look! Read through and let me know which look you want for this holiday season.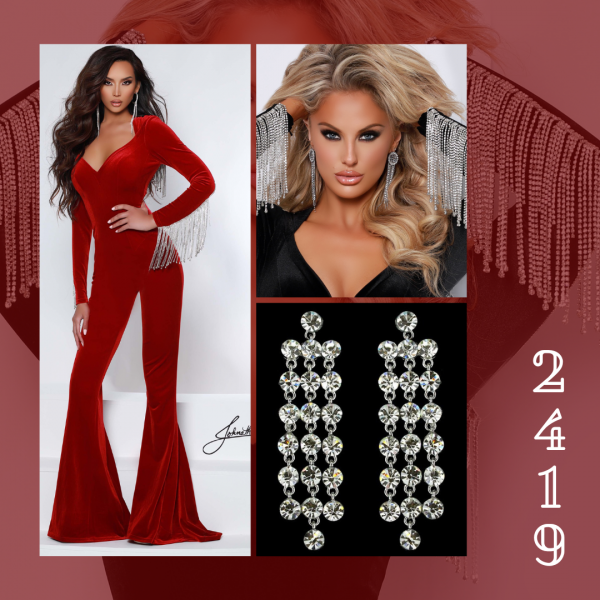 Style 2419 is for the elite.
Only a true queen can rock these crystal fringe sleeves. The bomb fit of this jumpsuit will have your waist snatched, and your legs will look effortlessly long. Whip your hair into a wavy curl, and bring all the drama with a smoky eye. My favorite accessory for this festive style is this crystal earring from Jim Ball. You can never have too much crystal!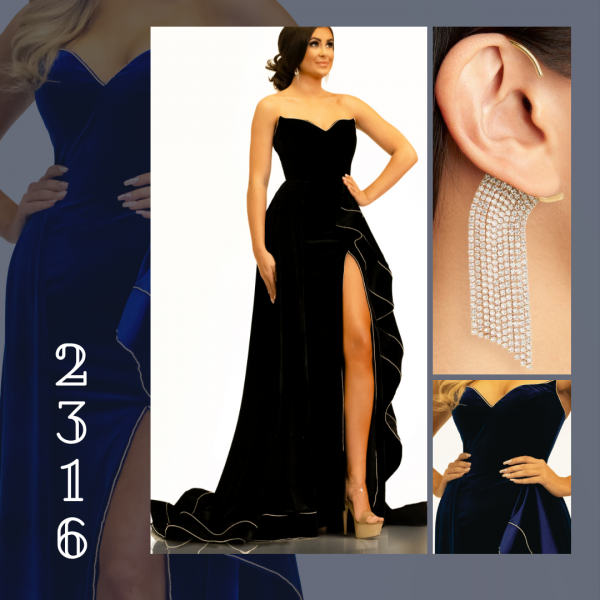 Make sure you are best dressed this year in style 2316.
Diamonds are your best friend this holiday season. Don't skimp on the glam. Suit up in this velvet gown with diamond chain along the ruffle and hem. Both royal and black are great colors for your holiday parties and events. Never forget how much jewelry can impact the look. Take this gown from classic to cool with this crystal chain ear cuff.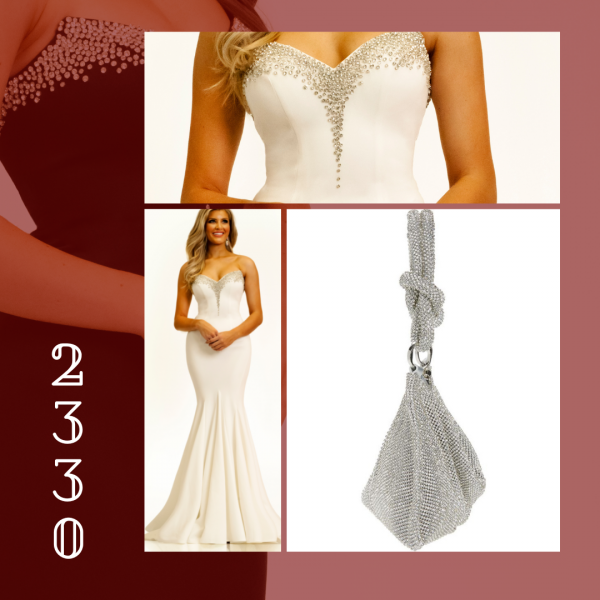 Style 2330 is the definition of sophisticated.
A classy gown will never fail you, especially not at the holidays. A hot style with a stunning fit, and a flattering prong set crystal neckline. These hand sewn stones cascade down the front of the gown to the natural waist, giving a pretty shape to the body. You cannot go wrong with this dress. Are you in love? Great! Pair this gown with a soft crystal clutch like this one from Nordstrom's.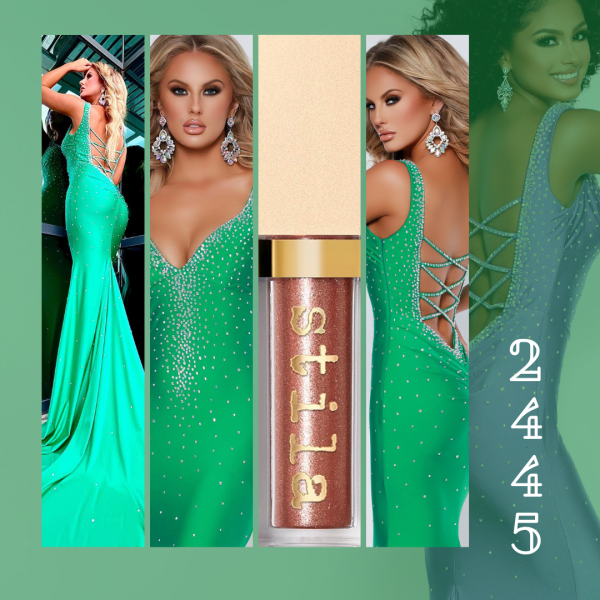 Style 2445 is the shiny new toy!
One word to describe this new best seller. SEXY! Be a step ahead of Santa's other party guests this season. This lycra is already flying off the rack, and you can see why. With a stretch fit it is perfect for every figure, and the new back detail is slimming and sexy. Try it on today at a local JK retailer, and when you fall in love with it shop for a shimmery liquid eyeshadow to complete the look. You are sure to be the star of the show.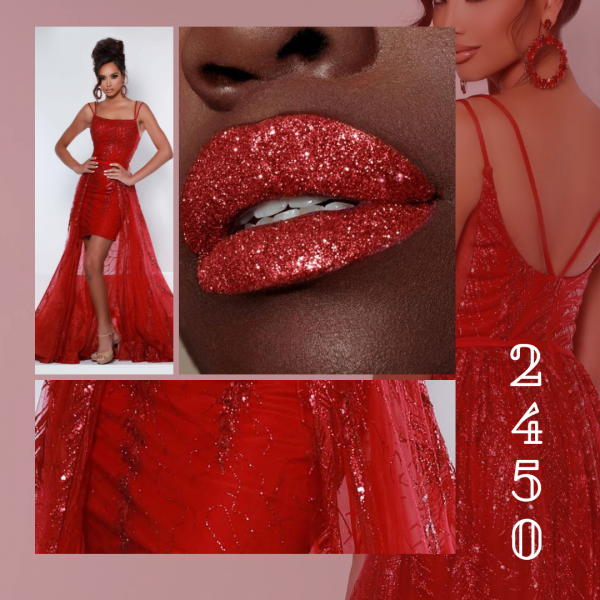 Sexy Style 2450
All that glitters is BOLD. This high-low glitter lace gown is completed with delicate strap details, and a killer dramatic overskirt. Ruby red is always glamourous, so pair it with my favorite glamour staple; a red lip! This glitter lipstick looks unstoppable, and is for sure a finishing touch detail for a holiday glam moment.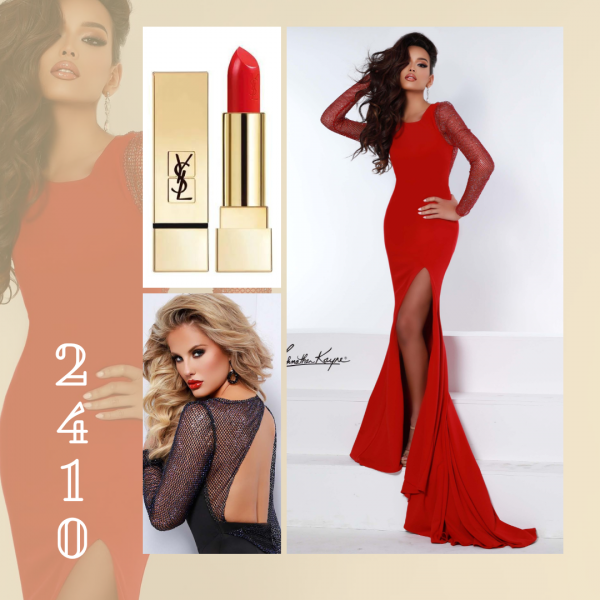 Style 2410 is a Stunner
Santa Baby, this gown is gorg! The crystal mesh sleeves and back detail make this gown shine. A creation from my collab with Joshua McKinley, this gown is perfect for special events. The sleeves make it sexy and appropriate for every age and style. Shop in red or black! Don't forget to finish your look with a beautiful face, and a bold red lip like this favorite red lipstick.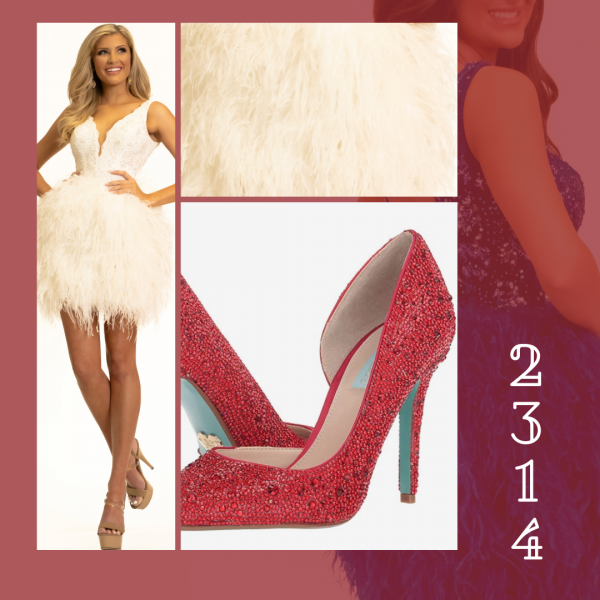 This winter angel is style 2314.
I have always loved a winter white, and this cocktail is no exception. the feather bottom is flirty and fabulous. A fan favorite for obvious reasons! Wearing a short dress is a great excuse to find a fun shoe. This white dress needs a little color! Why not add a pop of holiday spirit with your very own ruby slipper like this Betsy Johnson heel.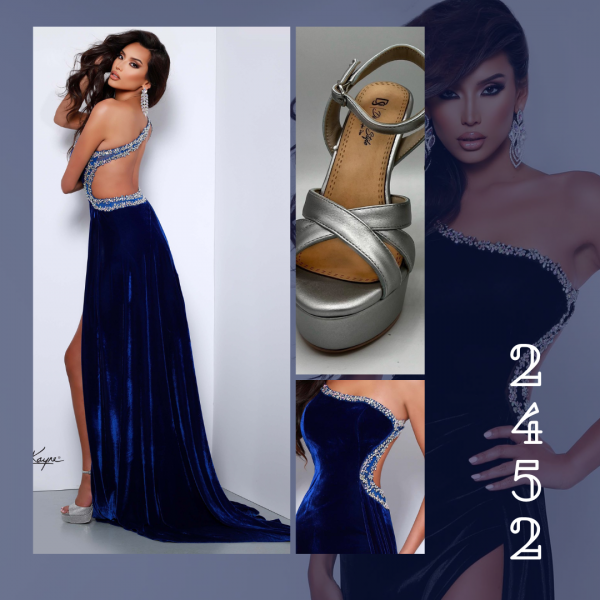 Style 2452 is my favorite!
Velvet is always a perfect fit for the holidays. You can shop it now in festive red, simple black, or this luxurious navy velvet with crystal trim that wraps around your body. It can not get more sexy then this! Seriously y'all need to be strutting to the grocery store in this gown, I am obsessed with it for every occasion. The best way to upgrade the look! A cool metallic shoe! Our example is from The Diverse Style line by Sydni Dion. Did you know Sydni is the current Miss IL, and she has modeling for me at many markets! So happy her shoe compliments this design!
So what will you wear to feel beautiful this holiday season? Share your best looks with me by tagging @johnathankayne on Tik Tok and Instagram!
xoxo,
JK
Halloween is a time to throw caution to the wind. A time to push your fashion sense to new heights, and reinvent yourself. What better way to do that than in your favorite JK gown? Yes… you read that doll! A JK gown can not only turn heads at your special event, it can make you one stunning Hallow-Queen. From princesses to superheroes, our line has something to inspire all of you gorgeous ghouls. Let's get ready for a bangin' Halloween!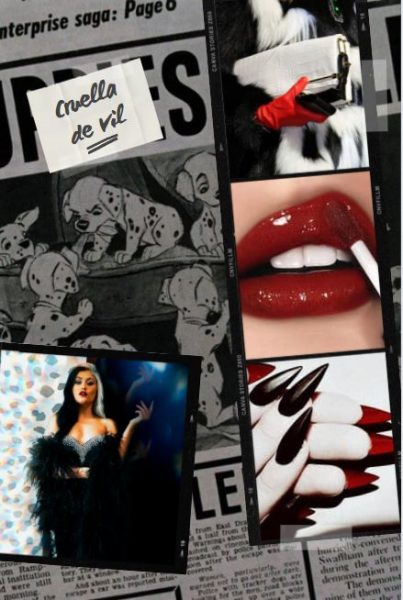 Starting this off with the Queen of Mean, Cruella de Vil. While she may have lost her mind, her fashion sense is right on track. Black and white with pops of red will always be a perfect way to make a statement but have no fear; No puppies will be harmed in our version of this classic villain. For a regal and figure flattering look I recommend choosing Style #2330. This gorgeous stretch jersey gown hugs the body perfectly, with beading along the neckline to add an effortless touch of glamor. Pair this with a fur shawl, a red lip, and extra points for a black and white wig. Look out for Cruella de Vil!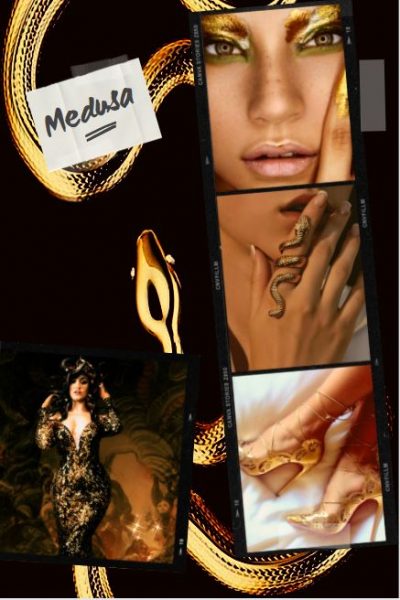 Moving onto yet another powerful villain, we have the eye catching Medusa. The legend of this serpent stunner is just as iconic as her style. Typically adorned with golden snakes, Medusa's look already makes a statement. In the JK version of this look we have combined this classic look with the fully sequined Style #2062. By pairing these killer accessories with a stunning mermaid, you will look just as irresistible as the Greek myth.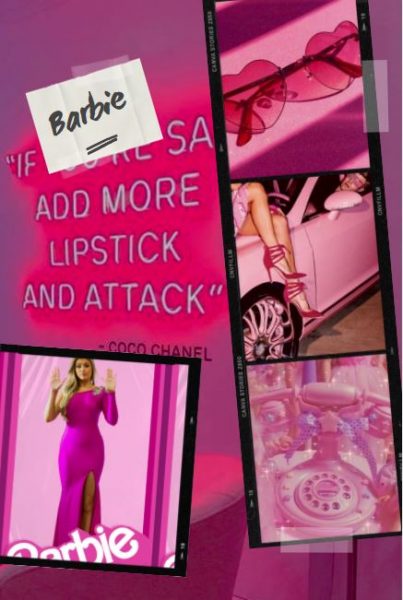 Come on Barbie, let's go party! If there's one thing I love it's a show stopping pink look. No one does it better than Barbie, from street style to evening gowns. In our version of this plastic icon, we have given her a full glam moment. Style #2224 is a hot pink best seller that even Barbie herself would die over. Just snag yourself a Ken, and you're all ready for the Dream House Halloween party. Truly a real life doll, if I do say so myself!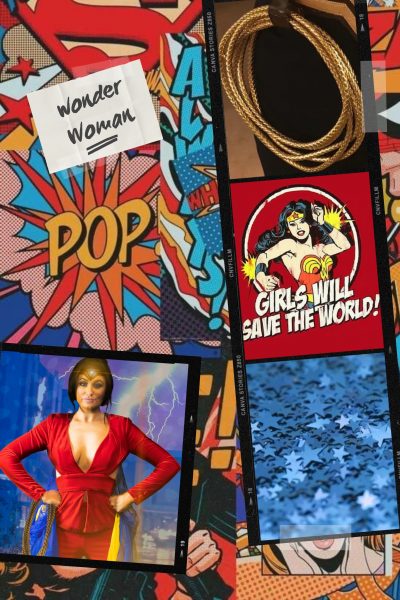 The guys and ghouls won't stand a chance against this woman warrior. Be the strong female lead this Halloween, and dress up like DC's best; Wonder Woman. Ditch the mini-skirt, and save the world with your sleek style. Velvet pantsuits are totally sexy, so style #2325 is a no-brainer 'fit. Add on a blue and a yellow JK Cape, and zip off to save the day! They'll be sure to notice when you *POP* into the party!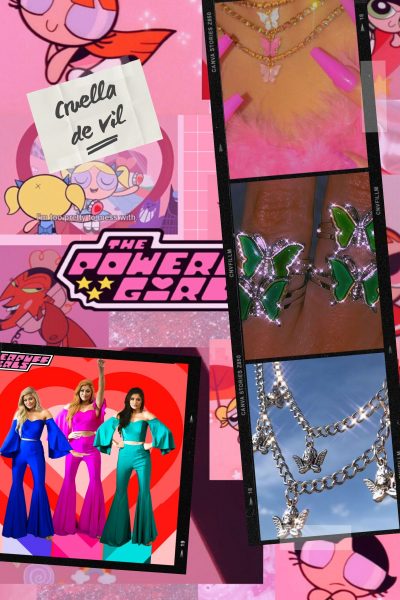 Dressing up with your girls? This girl power gang makes for a fun and flirty costume plan for the whole squad. Luckily we've made just the thing to bring these crime busting besties to life. Style #2317 comes in Pink, Blue, and Green so each of your girls can be one of the gang. Dress up the look with cute jewelry, and have a blast from the past while accessorizing with the best of the 90's hair styles.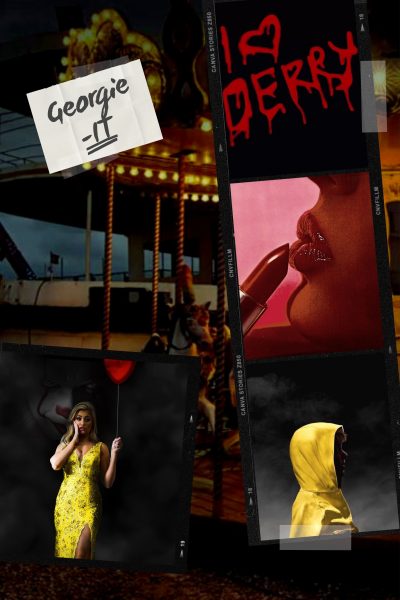 Dare to scare (with your good looks)! We love a scary costume, and this idea is scary SEXY! Bring your best Steven King attitude, and slip into style #2181. Our yellow color is spot on to help you become lady "Georgie". The only accessory you need? A red balloon, and of course a rockin' shoe. Finish off your look with a red lip, and "you'll float" into the night in style.
Which costume is your favorite? Or do you have your own Hallow-Queen idea? Share it with us online with hashtag #hallowqueen and don't forget to tag @johnathankayne !
Sparkle Noel Fashion Show and Charity Event
Join Johnathan Kayne in raising money for local Nashville charities. The JK team is dedicated to giving back to our Nashville communities. This year we are fortunate to have the opportunity to put on a fashion show hosted by HolidayFest, TN. The HolidayFest Organization puts on numerous events in Sumner County to bring the community together, and support growth and wellness for all. This year Johnathan Kayne is taking part in the Sparkle Noel Fashion Show and Tree Auction on November 12th. Join us to raise money for two incredible charities, and don't miss your opportunity to see all the JK styles in one place and plus some Sugar Kayne collection. The event is to be Emceed by award winning meteorologist Lelan Statom. Music will be provided by the talented Molly Lovette.
The event will be held at the Bluegrass Yacht and Country Club in Hendersonville, TN. Tickets are available at www.holidayfesttn.org. Learn more about the charities benefitted below!
Raising money for the Grace Place is something we are passionate about. The JK Team loves any opportunity to support and empower women, and the Grace Place does just that. This home for single mothers creates a support system for families in need. They provide a safe space for homeless mothers and their families, and provide each family with shelter, and access to services to help them grow and better their lives, and for their children's lives. This outstanding shelter gives women in need access to financial training, recovery programs, parenting classes, and so much more. As well as providing these families with their basic needs, they help educate and provide necessary career training. Playing a small role in supporting an organization like this fills our hearts!
The PEER Place will also benefit from the HolidayFest event. We couldn't be more excited to help support them, as they support adults with intellectual and developmental differences. The PEER Place is focused on Promoting Education, Experiences, and Relationships. They have curated the perfect community to empower these adults to achieve their highest potential. The programs they offer help these adults build friendships, further their education, and exercise their body and mind. Job training and volunteer skills are all encouraged, and help prepare each participant for life with independent living skills. We hope this event's support will allow the PEER Place to continue to positively impact lives in the community.
Join us on November 12th! Get your tickets today: www.holidayfesttn.org
Dress the Best for Homecoming 2021
Homecoming is right around the corner, which means that it's time to shop for the perfect dress! The amazing thing about a fun night out is you can become whoever you want to be. We've collected our favorite homecoming styles for 2021 so you can find the look that best fits your homecoming vibe. Take a look, and shop these styles with your favorite retailer today to be ready for this years dance!
Be a ROCKSTAR!
Do homecoming the right way, and walk in with celeb style. This studded and stoned mini dress is the perfect way to transform into the cool girl. The padded shoulders give off rocker vibes, and help to slim your waist, giving that killer hourglass figure. The high neck and long sleeves are sexy and sophisticated, and help to fit into school dress code (while still looking stunning). Choose white and gold for a sophisticated and totally badass vibe, or go with the classic LBD (little black dress). You'll know you're dresses with the best in this popular mini style.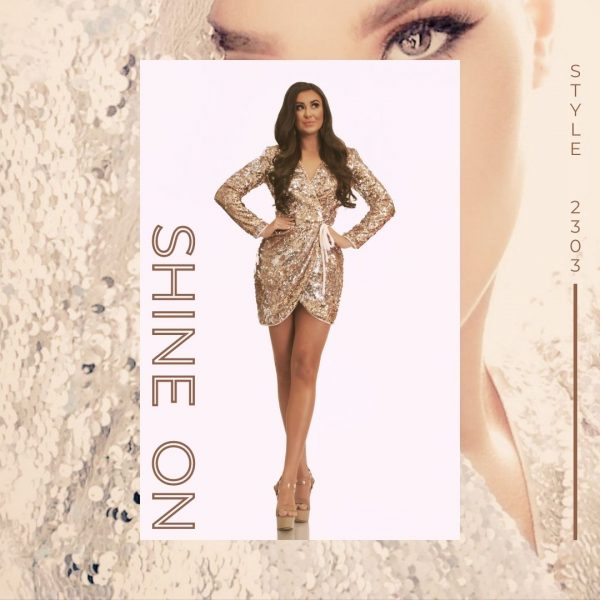 SPARKLE and SHINE!
Looking to be the center of attention this homecoming? Then make your mark in sequins. This extremely trendy and reversible sequin fabric will make you the life of the party. The comfy wrap dress style will ensure that you can keep dancing all night long. Available in both rose-gold and aqua-silver, you're sure to shine brighter than anyone in this sexy short dress.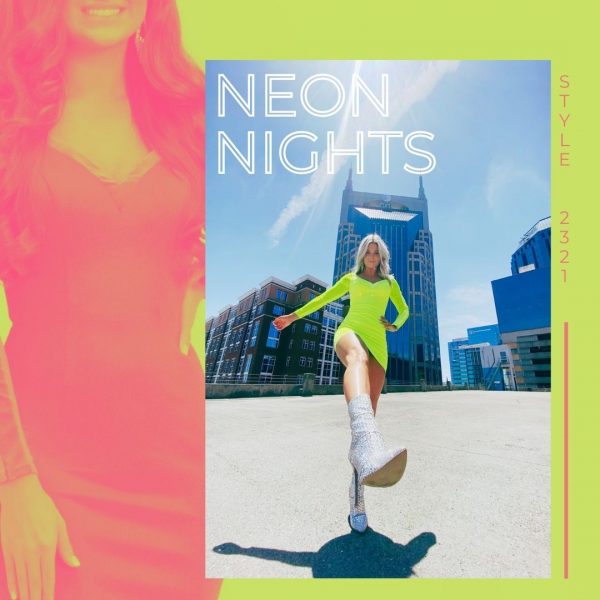 Be BRIGHT at NIGHT!
This is dress was made for the young and the fun girls! Feel wild and free stepping out on the town in in this bright dress with mesh and velvet details. The v-neck shape is flattering, and the sleeves feature a modern paneling design that gives them that something extra. NEON is for every season, especially for those girls looking to have a good time. Pair this dress with a cool neon boot, and nobody will be able to stop you from strutting your stuff.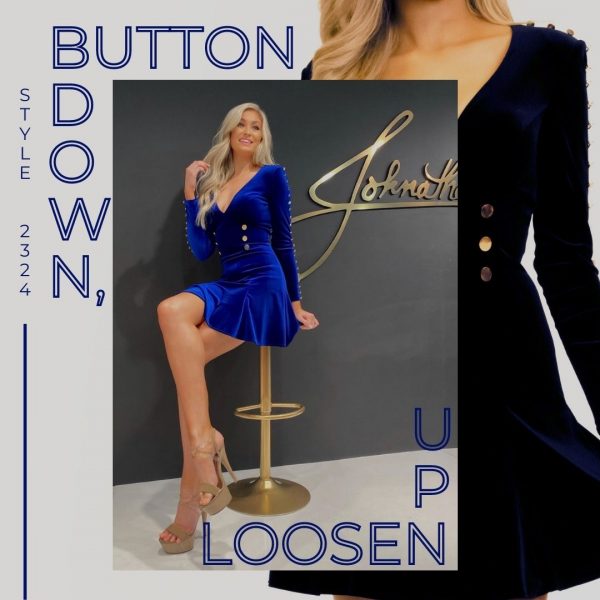 HELLO Sailor! 
Be fun and flirty in this playful style. The flouncy mini skirt makes this dress a blast to dance around in, and the skater skirt fit is a favorite for so many women. The stretch velvet fits like a glove, and makes feeling beautiful easy. With decorative gold buttons lining the sleeves, this style has a level of class and sophistication that is understood, and the decorative buttons on the dress draw attention to the slimmest part of the waist. For our classic LBD girls, the black velvet is so stunning, but for the more daring, the luxurious royal velvet is a show stopper.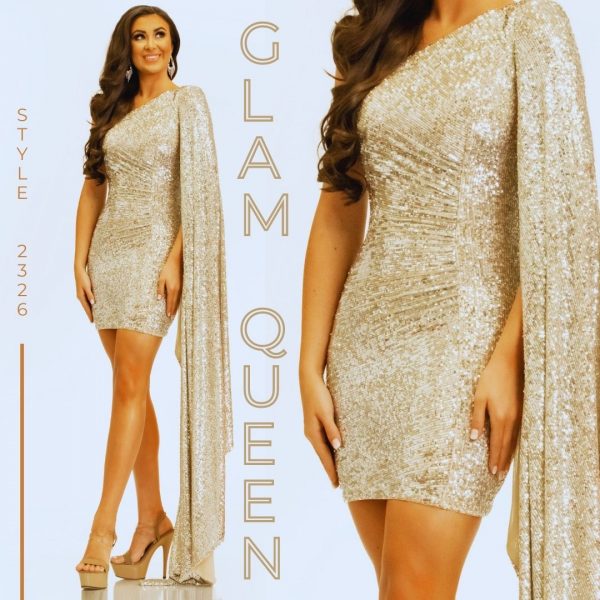 Bring on the DRAMA!
Give it up for the GLAMOUR GODESSES that are going to rule their homecomings in this stunning short gown. With a dramatic one shoulder that drapes down to the ground you can have the elegance of a gown in a short style. We can't forget to mention how delicious this champagne color looks on an array of skin tones. The cross-body gathers flatter the waist, and will give any body type a snatched look. Best part of this style, you don't have to jeopardize comfort to look this stunning. This whole gown is sequin stretch fabric, making it super comfortable, and easy to fit to your body type.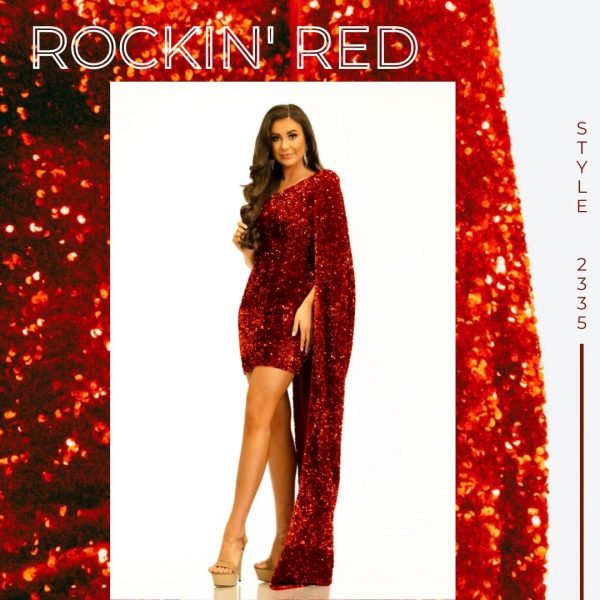 Bring on the BOLDNESS!
Red dresses are always a statement. Everyone knows that red is the sexiest color, so what happens when you have red sequin gown, with a dramatic sleeve, and a bangin' fit? You look RED HOT! Another shocking one shoulder sequin, but this velvet style brings extra sophistication. Featuring a drape from the sleeve to the back of the dress. Totally unique design elements like this are what make you stand out as as a STAR amongst the wanna-be homecoming queens.
Which look are you going to rock? Share your homecoming pics with us on Instagram! Make sure to tag @johnathankayne
Lookin' for what's HOT in fashion this September?
The JK Team has selected the best styles for the season, and we're giving you the inside scoop on what to wear! Plus exclusive styling tips! Scroll through to find the style guide that best fits your September MOOD!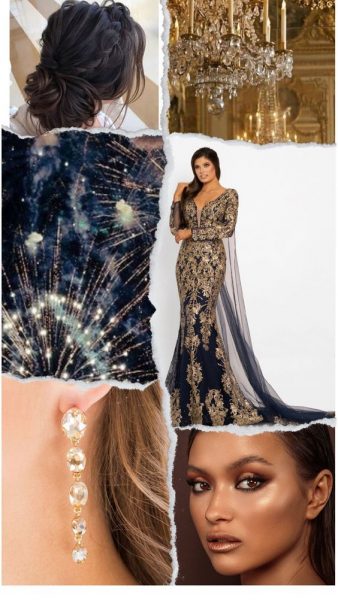 Set the stage for a regal September with style 2296. The gold lace and attached cape give off vibes fit for our queens. Avoid the fall breeze with elegant sleeves. You can cover up and still feel sexy by showcasing your curves and accentuating your waist with the deep V. Not sure how to style an elevated look like this? It can be maximalist made simple. With the ornate nature of the dress you won't have to go over the top on accessories. A natural metallic eye look and romantic curls will be enough. Add some amazing earrings, and a micro-gold necklace, and you're off the the ball. Bonus tip! Style this look for the holiday season right around the corner. Switch neutral make-up for a bold red lip, and your look will change with the seasons.
September is meant for romantic styles. This soft, and sparkling ballgown says goodbye to the summer months, and hello to the sophistication the fall season. Perfect for the girl who likes to subtly make her mark on fashion, the traditional silhouette makes style 2252 a perfect fit for any young lady! Not sure if white is the right color for you? Wait until you dress it up with pearls and jewels, and you will feel like an absolute movie star. The spaghetti straps leave your neck open, giving so much opportunity for jewelry and styling. With a dress like this let your locks flow free, and maybe throw in some fresh flowers to add to the ultra feminine spirit of your gown. Now you'll say white was made for you!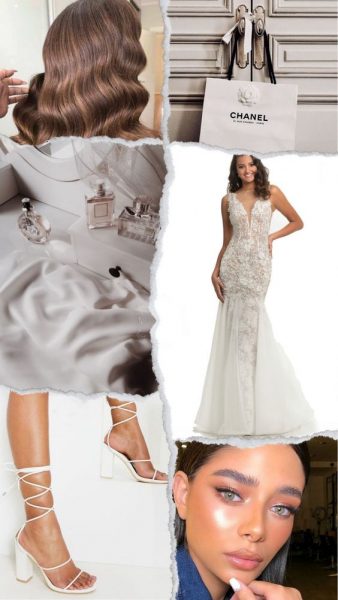 Hollywood glamour is timeless, and perfect for every season! Bring #GLAMvibes to your September with 9035. The soft mermaid makes for a flattering shape on curves. The delicate lace style is the perfect way to channel those vintage feels. Ready to transform into a star? Curl your hair into a soft wave, and let the movie star magic happen. With a wing liner, and a red lip you'll take you look to the next level. Add a diamond stud earring, and a diamond tennis bracelet to complete your outfit. Once you feel ready to walk the red carpet step into your best strappy heel, and strut. Make sure to take a sexy selfie, and filter it in black and white to achieve the ultimate vintage glamour mood.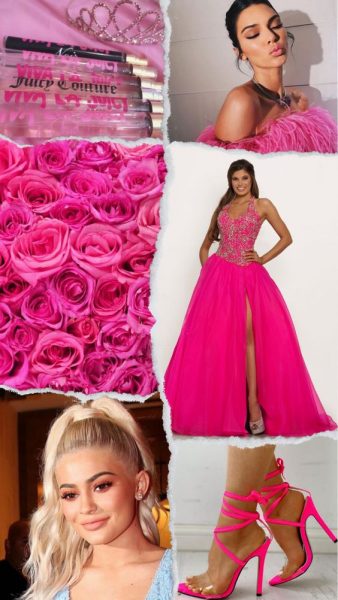 Ready to make a statement? Whether you're on the homecoming court, a pageant stage, or you just want to be the talk of the town this style will bring all the eyes your way. With a gorgeous, beaded, halter and a sliming bodice silhouette you are sure to feel your best. We get Barbie vibes from style 2227, so why not play that up? Embrace your inner girly girl, and do what makes you happy! Hot pink eyeliner is so fun, and will add a fun pop of color that is sure to make your eyes stand out. In this dress you can't forget about the shoes! With a high slit, you can show off your show stopping heels. Hot pink, of course! Live out your Barbie dreams this fall!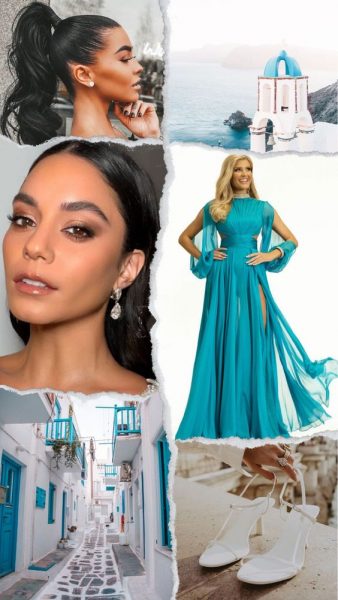 Float away in this ethereal style 2307. Bring summer fun into the fall and enjoy the sexy cutouts that let you show it all off. With so many layers of chiffon and two sexy high slits, your legs can be on full display. Make sure to choose a powerful shoe to help accentuate your long legs. The slit sleeve is so romantic, and the diamond cuffs replace the need for matching jewelry making it simple to style. With a natural eye look, and a high gloss lip you will look like a goddess stepping right out of the ocean. A sleek high pony would be the perfect final touch to polish your flowy final look.
Gold is a fall time favorite for a reason! And what goes better with gold than green? Make your power move, and be the girl boss in style 2323 this homecoming season. This reconstructed suit style is bangin' and a sexy option for the non-traditional girl. The gold studs give the jacket and edgy feel, while the slim fitted pant makes the look ultra sexy. Not sure how to wear such a unique piece? Make it yours! Play around with fun and bold makeup looks. When you feel beautiful, you look beautiful. Keep your hair simple, and pulled up to show off the unique one shoulder style, and to bring attention to you're elegant gold necklace. Your jewelry can be kept to a minimum, and the gold embellishments do the work for you, just make sure to wear an attention grabbing gold stud earring.
Step right out of a fairy-tale in style 2245. This simple and sexy dress can be styled in amazing ways. The body hugging silhouette makes the fit slimming and stunning. Be the fairy princess of your dreams by dressing this dreamy gold gown up with fun emerald accessories. Wearing this dress you can write the pages of your own story book. So create a look that speaks to you with a fun hairstyle. With a neutral neckline like this you are free to explore your hair and make-up options, and pick something modern and gorgeous. We suggest styling this dress with a gold heel, but for our edgy girls try it with an all gold boot. Wear this style out, and be the QUEEN of your own night.
You can't go wrong with rose gold. We all know how trendy rose gold is, but this dress can take you beyond trends, into striking style. Style 2044 shines from head to toe, and with the form-fitted style you are sure to shine even more. Never dull your sparkle, but you can tone down this look for a sexy sophisticated vibe. With a sharp black heel, and matching leather clutch you will be on your way to perfection. Wear your hair in a modern slicked back style, or keep a relaxed curl, but make sure you work that smoky eye. A dark eye look will add to the dramatic effect, and increase the mysterious feeling. We aren't finished yet! A sophisticated lady like you needs accessories. Go bold with modern jewelry. Mix your metals for a real rock and roll outcome!
September is for the girls! Steal hearts in this well loved style 2017. With an intricate sequin pattern, and an iridescent shine this style is perfect for the fun and flirty teen. You will feel feminine in the light purple color, and the satin spaghetti strap makes this the perfect dress for feeling comfortable and confident. The open neckline allows you to enjoy tossing your long hair around in loose curls, or gives you the space to create an amazing sculptural hair-do. With a stunning purple necklace, and matching earrings you will feel ready to take the world by storm. Don't under estimate how powerful a colorful eye look can make you feel. Go full purple, and see your inner beauty spark through. Finish this look off with a great attitude and you are sure to enjoy your entire night!
Pantsuits are IN, and now is the perfect time to try it out! There is such a power in dressing up in a rockin' pantsuit. Not all pantsuits are created equal. Style 2322 goes beyond the rest as it keeps its soft, and subtly femininity. The plum color is gorgeous on a range of skin stones, and the crossover bodice flatters the waistline. A soft purple earring would pull this look together, and keep it simple with a nude heel. If you want to play up your own personal style, pick a wild shoe, and unzip the front of the pant leg to show it off. Wearing such a bold color you can keep your makeup and hair simple, but an over sized silver clutch would really complete your outfit.
Don't ever be afraid to spread your wings and fly. Style 2201 is the perfect representation of personal growth with the changing seasons. It's important to remember you can always transform into your best self, and this strapless gown with a butterfly overskirt can help you do that. Transform into the you that you've always wanted to be and express your inner, and outer, beauty. This look totally allows YOU to be YOU with the detachable overskirt. You can go from simple sophistication to high fashion butterfly in seconds. Style this look by playing up the rainbow elements. A really colorful eye look might bring this dress to life. Before you fly away, grab your favorite pair of black heels. Bonus points if you find a heel with rainbow elements!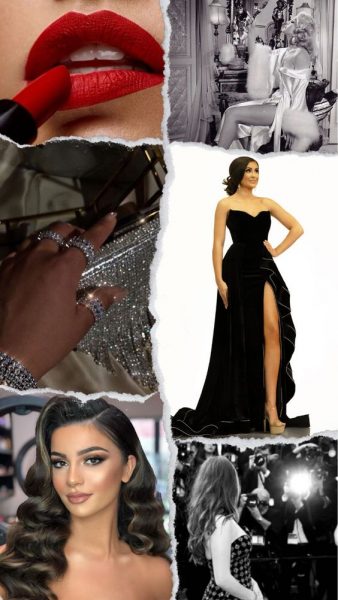 Set the stage for your Oscar winning performance in this strapless velvet gown. What do our dramatic girls love more: Black velvet, or rhinestones? With style 2316 you get both! The rhinestone trim on the ruffle defines this look as luxurious. Go full glam and bring on the BLING. A glitzy heel, a fantastic rhinestone bag, and a bold red lip are all a MUST for this glamorous girl. We love how sexy this ballgown can become when you show off your leg. Keep it classy though, and go for a classic glamour hair style. Big, soft, dramatic curls will set the scene for your movie moments. We promise this dress will put the spotlight on you!
Screenshot your favorite style and share it with us on social @johnathankayne ! And we would love to hear what styling guide you want from Johnathan Kayne next???