Dress the Best for Homecoming 2021
Homecoming is right around the corner, which means that it's time to shop for the perfect dress! The amazing thing about a fun night out is you can become whoever you want to be. We've collected our favorite homecoming styles for 2021 so you can find the look that best fits your homecoming vibe. Take a look, and shop these styles with your favorite retailer today to be ready for this years dance!
Be a ROCKSTAR!
Do homecoming the right way, and walk in with celeb style. This studded and stoned mini dress is the perfect way to transform into the cool girl. The padded shoulders give off rocker vibes, and help to slim your waist, giving that killer hourglass figure. The high neck and long sleeves are sexy and sophisticated, and help to fit into school dress code (while still looking stunning). Choose white and gold for a sophisticated and totally badass vibe, or go with the classic LBD (little black dress). You'll know you're dresses with the best in this popular mini style.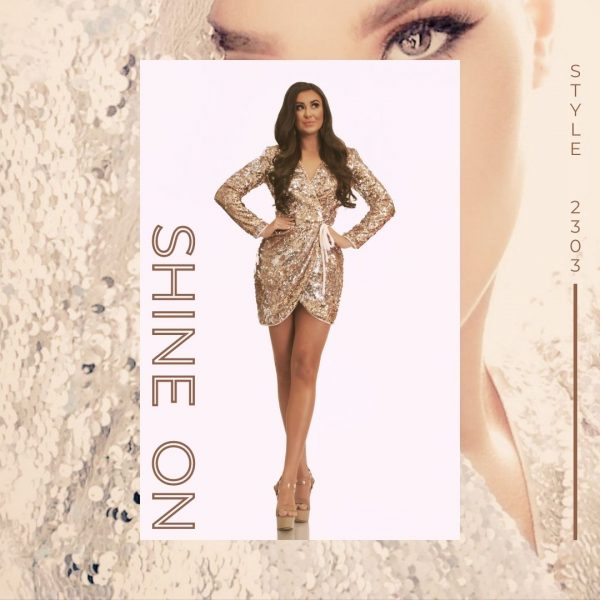 SPARKLE and SHINE!
Looking to be the center of attention this homecoming? Then make your mark in sequins. This extremely trendy and reversible sequin fabric will make you the life of the party. The comfy wrap dress style will ensure that you can keep dancing all night long. Available in both rose-gold and aqua-silver, you're sure to shine brighter than anyone in this sexy short dress.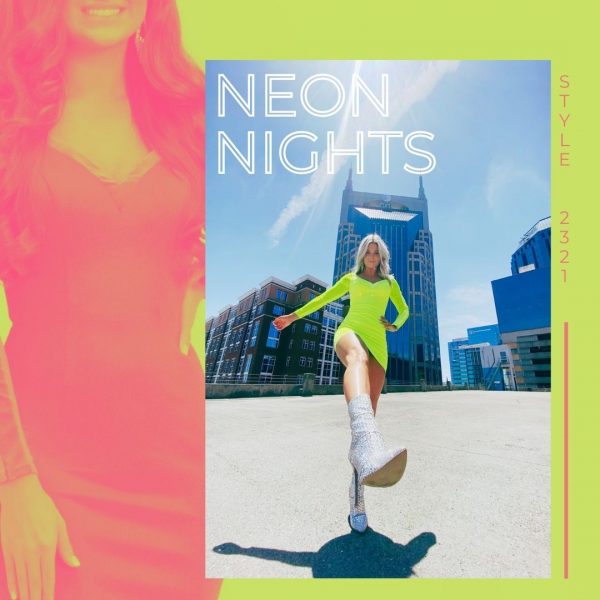 Be BRIGHT at NIGHT!
This is dress was made for the young and the fun girls! Feel wild and free stepping out on the town in in this bright dress with mesh and velvet details. The v-neck shape is flattering, and the sleeves feature a modern paneling design that gives them that something extra. NEON is for every season, especially for those girls looking to have a good time. Pair this dress with a cool neon boot, and nobody will be able to stop you from strutting your stuff.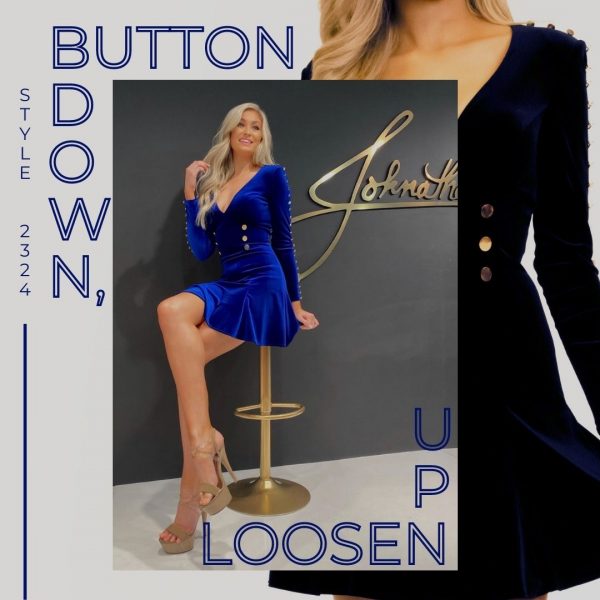 HELLO Sailor! 
Be fun and flirty in this playful style. The flouncy mini skirt makes this dress a blast to dance around in, and the skater skirt fit is a favorite for so many women. The stretch velvet fits like a glove, and makes feeling beautiful easy. With decorative gold buttons lining the sleeves, this style has a level of class and sophistication that is understood, and the decorative buttons on the dress draw attention to the slimmest part of the waist. For our classic LBD girls, the black velvet is so stunning, but for the more daring, the luxurious royal velvet is a show stopper.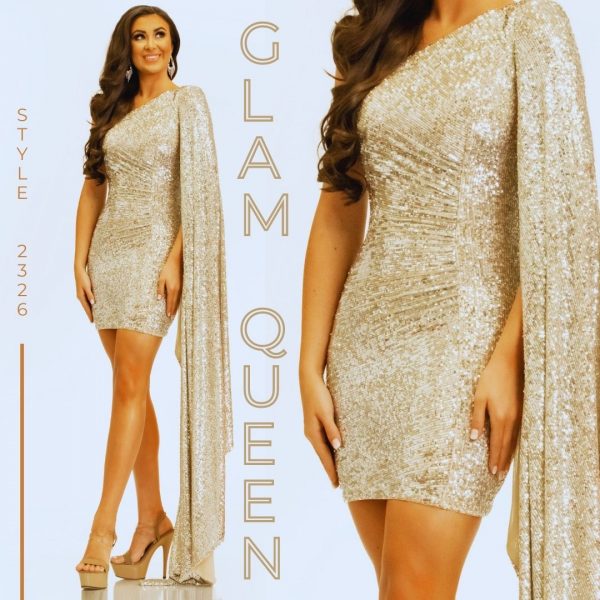 Bring on the DRAMA!
Give it up for the GLAMOUR GODESSES that are going to rule their homecomings in this stunning short gown. With a dramatic one shoulder that drapes down to the ground you can have the elegance of a gown in a short style. We can't forget to mention how delicious this champagne color looks on an array of skin tones. The cross-body gathers flatter the waist, and will give any body type a snatched look. Best part of this style, you don't have to jeopardize comfort to look this stunning. This whole gown is sequin stretch fabric, making it super comfortable, and easy to fit to your body type.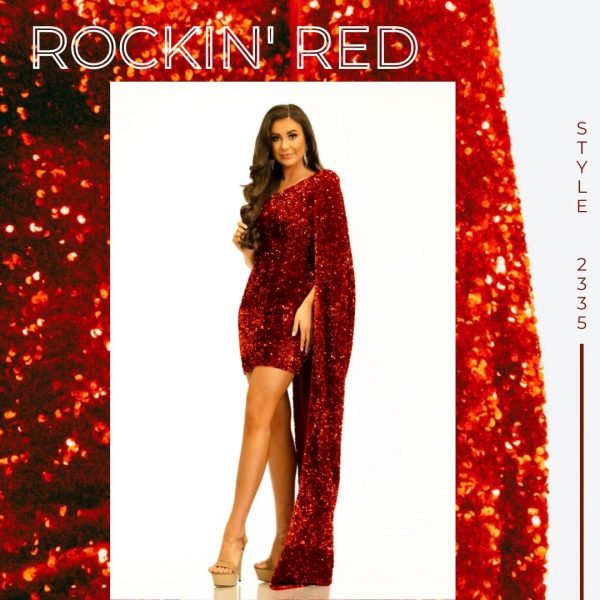 Bring on the BOLDNESS!
Red dresses are always a statement. Everyone knows that red is the sexiest color, so what happens when you have red sequin gown, with a dramatic sleeve, and a bangin' fit? You look RED HOT! Another shocking one shoulder sequin, but this velvet style brings extra sophistication. Featuring a drape from the sleeve to the back of the dress. Totally unique design elements like this are what make you stand out as as a STAR amongst the wanna-be homecoming queens.
Which look are you going to rock? Share your homecoming pics with us on Instagram! Make sure to tag @johnathankayne