Hottest Trend for Prom 2022: NEON
The hottest prom trend for 2022 is bold and unapologetic color. Fellow designer Joshua McKinley and myself have been on the neon trend for a while, but I am predicting an even bigger year for neon colors in 2022! These styles are some of the best (and brightest) for 2022 prom from our best selling and new collections! With bright colors from pink to yellow, everything you need is here for this springs hottest trends.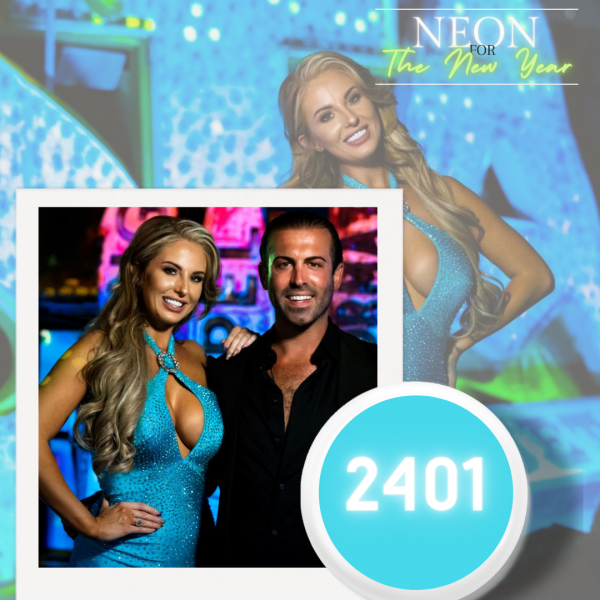 Kicking it off with a Joshua style that is perfect for prom! This keyhole lycra gown comes in 3 brilliant neon colors: fuchsia, turquoise, and lime. The great appeal of neon fashion is that the tones and colors naturally boost your mood. I always feel a positive energy when seeing our girls trying on this special fitted prom dress for the first time. Style 2401 is truly a unique prom style as it features a cross-over halter with a removable broach so you can style it YOUR way.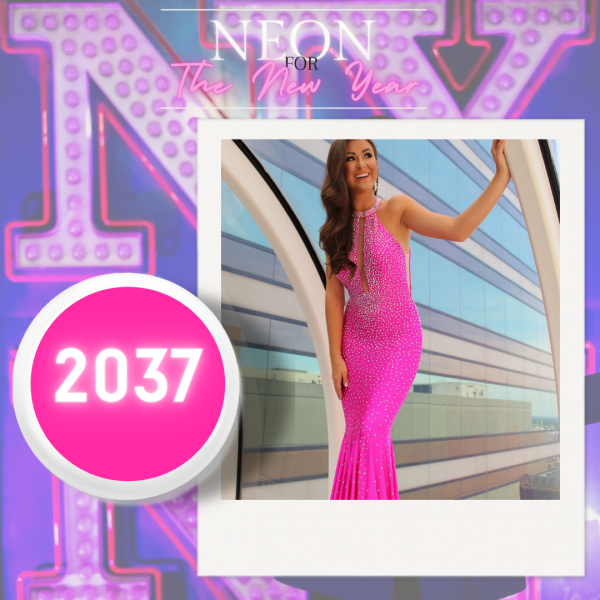 I am telling y'all, I knew that neon was youthful and sexy for years. This staple Johnathan Kayne style 2037 has been a best selling gown in my collection for multiple seasons! Truth is this gown remains one of our girls, and retailers, favorite dresses every year. This perfect prom and pageant cross-over is great for standing out, even with the limitation of school dress codes. The halter neck helps cover up to fit your school, or pageant, guidelines, and the fit and vibrancy make you feel beautiful. This sexy style is available in so many colors, including this bright fuchsia, electric blue, and NOW a bright and unique lime just in time for prom season.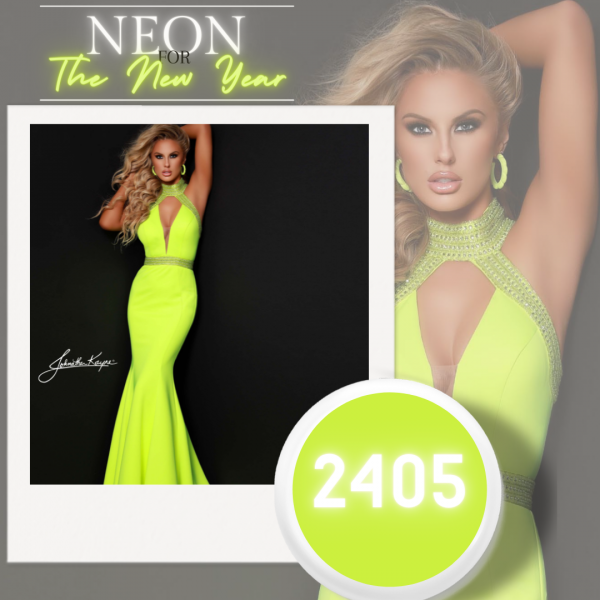 When I started brainstorming sexy neon, style 2405 is the first design and color to come to mind. This vibrant dress deserves to be on a billboard. Forget the neon sign, all you need this this stretch knit V-neck. This neon yellow colorway is even more stunning in person. You just have to give this dress a try-on while doing your prom shopping. I promise it'll be hard to find another dress as perfectly youthful, and unique.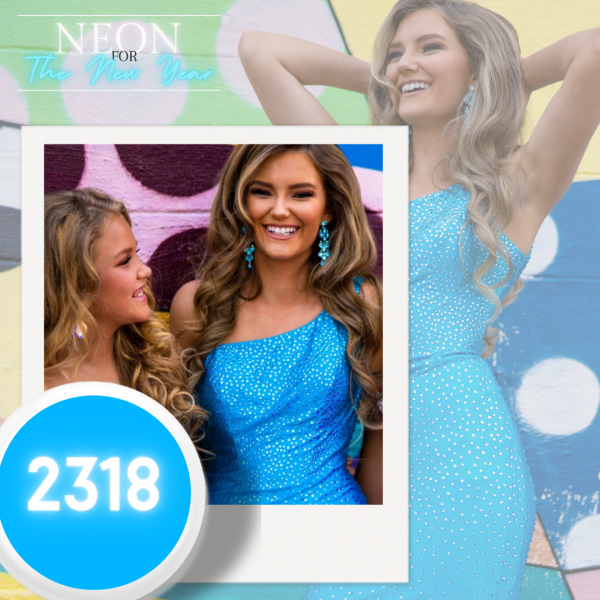 One shoulder styles have been selling like hot-cakes. Let me tell you that style 2318 will never disappoint. As seen on Katelyn Brown in Kiwi, this style is a knockout on any body type. We've been selling this style to prom girls from a size two to a twenty-two. There is no way you won't swoon over these bright beauties available in delicious colors like yellow, turquoise, kiwi, and hot coral. Shop this style soon before it's sold out for the season.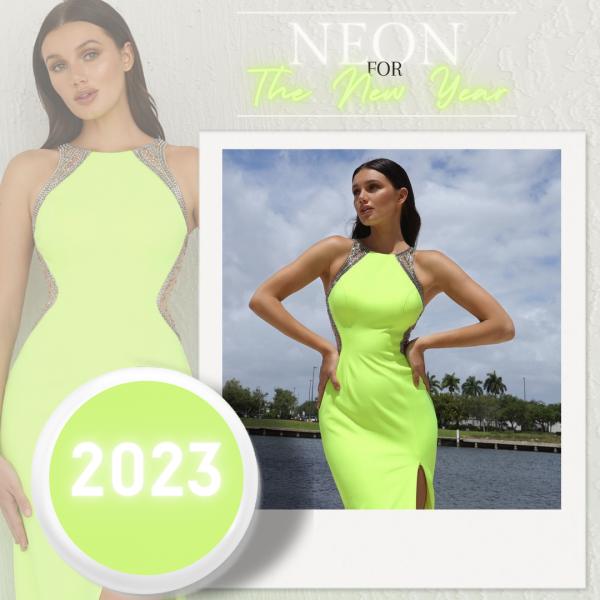 Of course we had to include another Joshua dress that has been killing the neon fashion game for a few seasons. This flattering dress accentuates all the right curves. There's no better way to show off your waist while wearing bold color like style 2023. The gun metal beads and details make this gown pretty, dare I say, badass. Not only will you look like a baddie in this at prom, but you'll be totally on the neon trend! As much as I love this gown in yellow, there's a dynamite hot coral that I couldn't recommend more.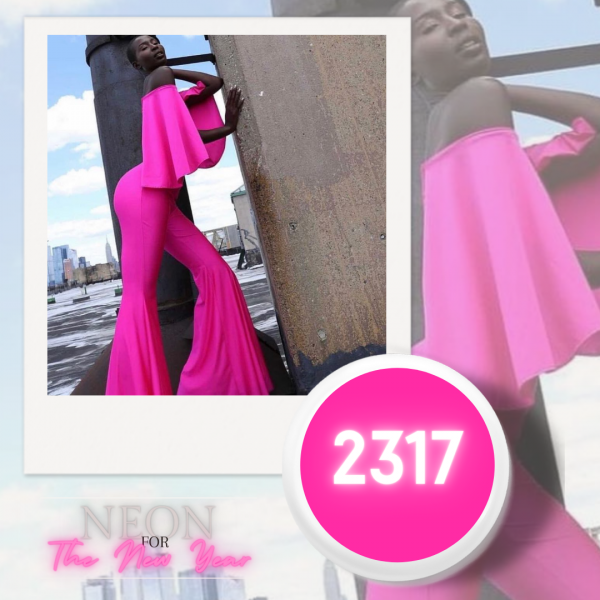 Pantsuit sets and pink is a match made in trending heaven. What could possibly rise to the top of the neon trend faster than a two-piece set in a stretchy, ultra comfortable fabric? That's why style 2317 is at the top of the style list for bangin' neon styles. These bell bottom pants are perfect for elongating the leg; and nothing is better than being able to comfortably bust a move when you're wearing a color as energetic as this fluorescent fuchsia. The little ones aren't excluded from this special style. Check out style C115 in the Sugar Kayne Line.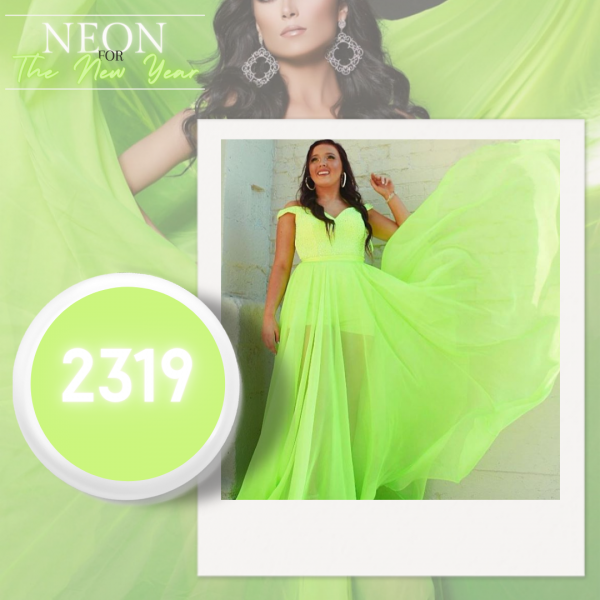 Let's be real, we're all #obsessed with this neon hot short. There is no wrong time to wear style 2319. I could style this romper for any occasion. Perfect for the pageant fun fashion, the non-traditional prom girl, or even for GNO. The sheer overskirt takes this fashion from flirty to fabulous, or vice versa. Perfect in two neon colors: hot coral and neon yellow.
Check out our Pinterest for Bright Color Prom Inspiration!
Holiday Glam Favorites from JK!
Style your holiday season with the best! See my favorite styles for the holiday season, and how I would style them for an jaw dropping look that is sure to make you feel beautiful. I have included links to my favorite accessories so you can shop the full look! Read through and let me know which look you want for this holiday season.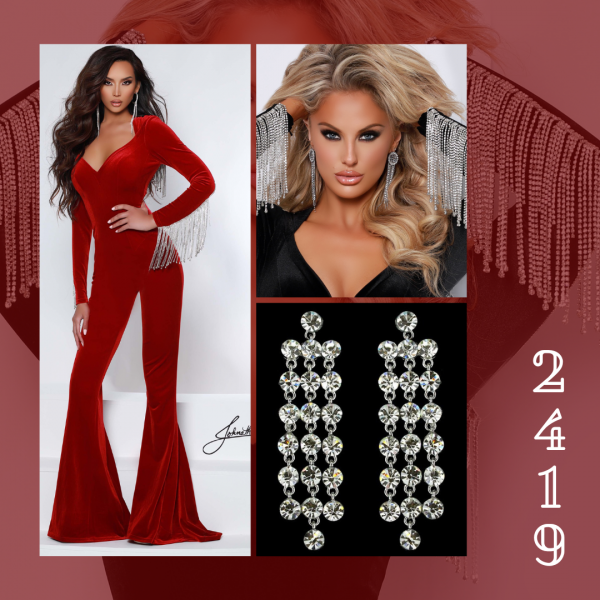 Style 2419 is for the elite.
Only a true queen can rock these crystal fringe sleeves. The bomb fit of this jumpsuit will have your waist snatched, and your legs will look effortlessly long. Whip your hair into a wavy curl, and bring all the drama with a smoky eye. My favorite accessory for this festive style is this crystal earring from Jim Ball. You can never have too much crystal!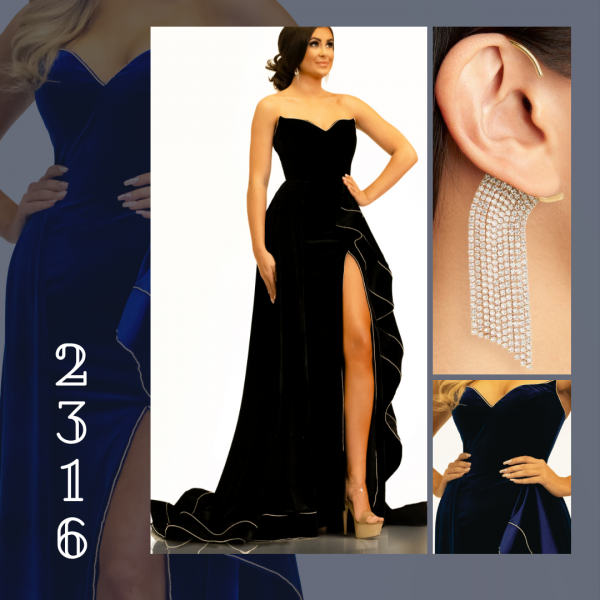 Make sure you are best dressed this year in style 2316.
Diamonds are your best friend this holiday season. Don't skimp on the glam. Suit up in this velvet gown with diamond chain along the ruffle and hem. Both royal and black are great colors for your holiday parties and events. Never forget how much jewelry can impact the look. Take this gown from classic to cool with this crystal chain ear cuff.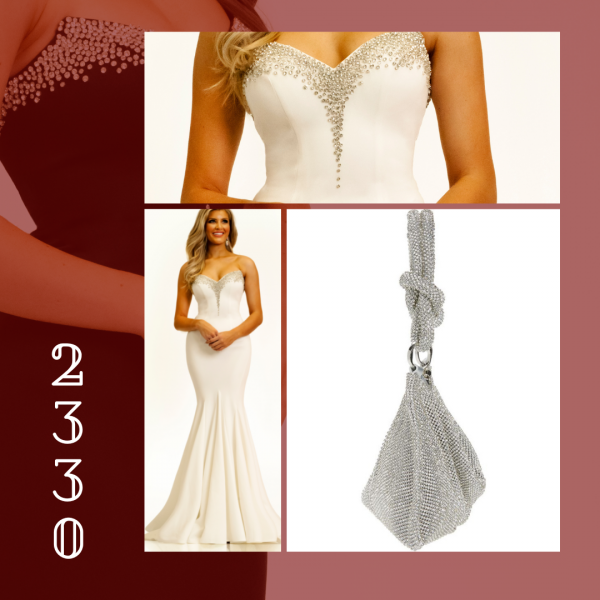 Style 2330 is the definition of sophisticated.
A classy gown will never fail you, especially not at the holidays. A hot style with a stunning fit, and a flattering prong set crystal neckline. These hand sewn stones cascade down the front of the gown to the natural waist, giving a pretty shape to the body. You cannot go wrong with this dress. Are you in love? Great! Pair this gown with a soft crystal clutch like this one from Nordstrom's.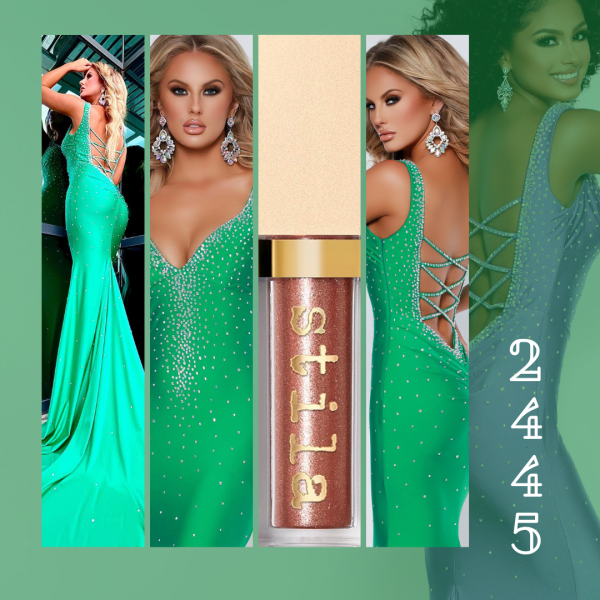 Style 2445 is the shiny new toy!
One word to describe this new best seller. SEXY! Be a step ahead of Santa's other party guests this season. This lycra is already flying off the rack, and you can see why. With a stretch fit it is perfect for every figure, and the new back detail is slimming and sexy. Try it on today at a local JK retailer, and when you fall in love with it shop for a shimmery liquid eyeshadow to complete the look. You are sure to be the star of the show.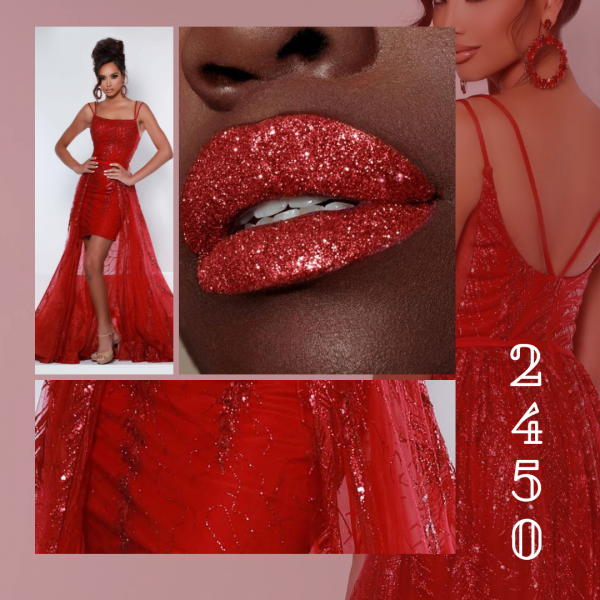 Sexy Style 2450
All that glitters is BOLD. This high-low glitter lace gown is completed with delicate strap details, and a killer dramatic overskirt. Ruby red is always glamourous, so pair it with my favorite glamour staple; a red lip! This glitter lipstick looks unstoppable, and is for sure a finishing touch detail for a holiday glam moment.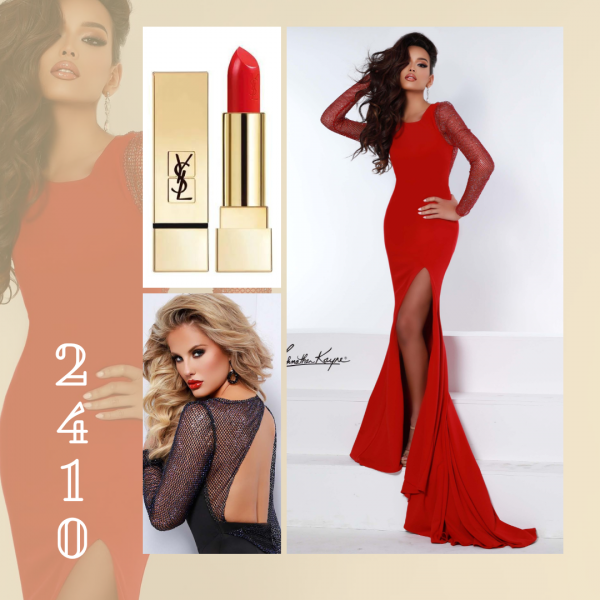 Style 2410 is a Stunner
Santa Baby, this gown is gorg! The crystal mesh sleeves and back detail make this gown shine. A creation from my collab with Joshua McKinley, this gown is perfect for special events. The sleeves make it sexy and appropriate for every age and style. Shop in red or black! Don't forget to finish your look with a beautiful face, and a bold red lip like this favorite red lipstick.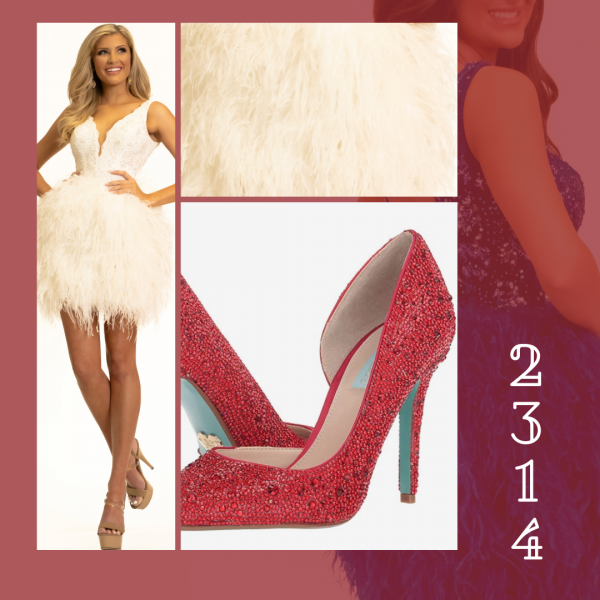 This winter angel is style 2314.
I have always loved a winter white, and this cocktail is no exception. the feather bottom is flirty and fabulous. A fan favorite for obvious reasons! Wearing a short dress is a great excuse to find a fun shoe. This white dress needs a little color! Why not add a pop of holiday spirit with your very own ruby slipper like this Betsy Johnson heel.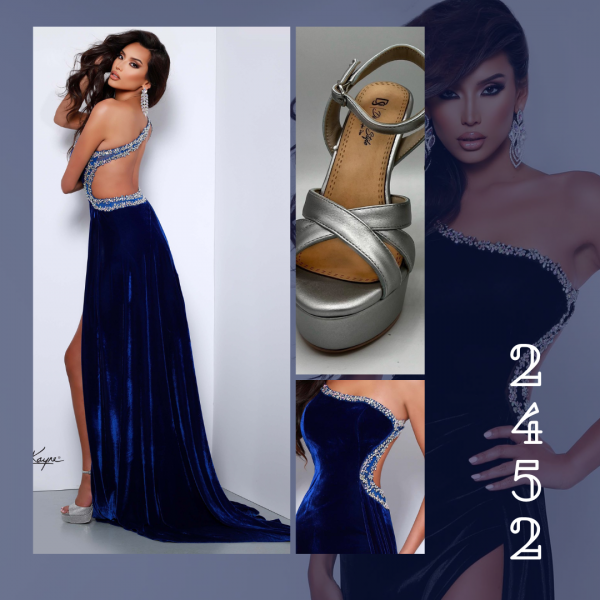 Style 2452 is my favorite!
Velvet is always a perfect fit for the holidays. You can shop it now in festive red, simple black, or this luxurious navy velvet with crystal trim that wraps around your body. It can not get more sexy then this! Seriously y'all need to be strutting to the grocery store in this gown, I am obsessed with it for every occasion. The best way to upgrade the look! A cool metallic shoe! Our example is from The Diverse Style line by Sydni Dion. Did you know Sydni is the current Miss IL, and she has modeling for me at many markets! So happy her shoe compliments this design!
So what will you wear to feel beautiful this holiday season? Share your best looks with me by tagging @johnathankayne on Tik Tok and Instagram!
xoxo,
JK
Jumpsuits are the hottest new style for women! So of course Johnathan Kayne had to put together some of the greatest jumpsuits. These are the JK's picks for the most "instagramable" pantsuits.
Simple is simply over-rated. This style takes the most classic details and transforms the look into a chic and modern design. The asymmetrical style is effortless and one of a kind. Keep it funky, and play into the "boss babe" vibes with the gold stud accents. We love how cool this style looks when worn with fun 80's inspired hair and make-up. Making this modern piece have some vintage flare is iconic. The pantsuit is a strong women's look, so take it to the next level in style 2323!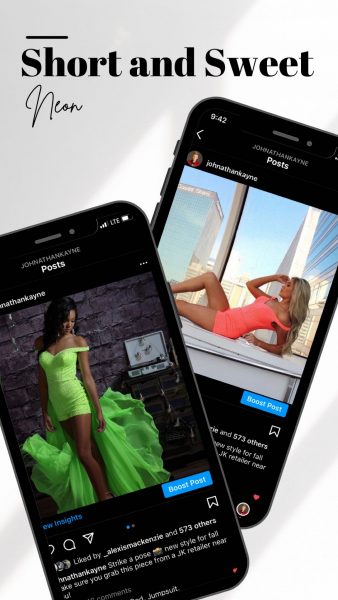 Rompers are the new jumpsuit. Make it fun and sexy with this hot short style 2319. The off the shoulder look is classic elegance and the shorts and transparent detachable skirt adds a flirty edge. Being a neon piece adds to the trendy nature of the look. Neon is so in for young women, and we are loving it! There is nothing more bold than bright colors! We loved seeing all the beautiful girls rocking this shorts style at homecoming this year.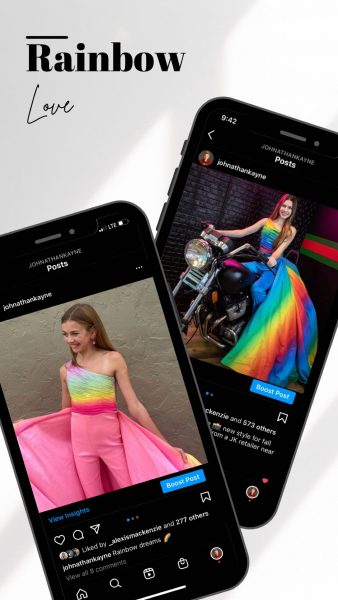 Cool girls wear RAINBOW! This Sugar Kayne style is "tie-dye" for. The dreamy overskirt is perfect for any fun fashion, or just to strut your stuff at your next birthday party. Bold fashion is for girls of all ages. We love how sweet and sassy style C144. The pleated bodice adds just the right amount of style, and the one shoulder makes this outfit comfy for all little ones. We recommend this look in pink and blue!
This studded show stopper is perfect for the inner rockstar. Talk about a power suit, this flattering jumpsuit hugs the body in all the right places, and the pattern helps to flatter the body. The illusion belt snatches in the waist, and the diagonal print lengthens the leg. We are obsessed with style 2328 in black, but white is the perfect look for pageant interview, or even for the cool and alternative bride! Where would you wear this style?
We had to create the perfect jumpsuit for the retro babes. This 70s inspired bell bottom look is not only comfortable, but flexible for any event. Dress it up with accessories for a stunning look, or wear it out on the town for GNO! Either way you are sure to enjoy every moment in this stretchy style. Finding the perfect fit in a pantsuit can feel impossible until you slip into this lycra set. We love that style 2317 brings the vintage flair in bright, fresh colors! Available for littles in the Sugar Kayne line: style C115.
Sparkle from head to toe in Sugar Kayne style C131. These sequin fringe bell bottoms are unstoppable on stage, and the high low top gives you the extra confidence to STRUT your stuff! All three colors (white, ice blue, and pink) are perfectly paired with the unicorn sequin, and who doesn't love unicorn colors! Make sure you snatch this style for your next pageant.
Va-va voom! This style is ultra sexy! Featuring an open back, and deep-V you will feel so powerful in this pantsuit style. The luxurious velvet fabric is like butter, and feels great on. With a stretch fit it hugs the body, and highlights your best assets. Velvet buttons decorate the back neck as a sophisticated style detail. Steal the show in style 2325.
Need something simple and chic? Style 2322 is the perfect option for a clean and sophisticated jumpsuit style. The cross over bodice is simple yet stunning, and the slight bell bottom creates a flattering shape on the leg. Bonus detail: the front of the pant unzips to flaunt your show stopping shoes. The mustard is the perfect color for brunette's, or darker skin tones, while the plum looks spectacular on blondes!
Which pantsuit are you wearing this season?